Q & A with Benjamin Caron, Director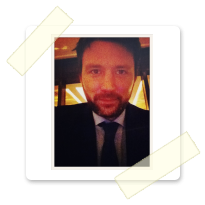 Benjamin CaronBenjamin Caron is a Bafta-winning director working in Drama and Entertainment.
As a director, he has collaborated with the likes of Derren Brown and Jay-Z (although not at the same time) as well as many high profile actors across a diverse range of dramas. He was also part of the Bafta winning creative team behind ITV's The Cube.
We asked him about all of that and his latest project for E4, My Mad Fat Diary.....
Can you tell us the story of Mad Fat Diary?
Set in the mid-90s at the height of cool Britannia, My Mad Fat Diary takes a funny and honest look at teenage life from the perspective of Rae - a funny, music-mad 16-year-old who, despite an eccentric mother, messed up body image and mental health issues, has a huge lust for life, love and trying to get laid.
My Mad Fat Diary is adapted from Rae Earl's real-life diaries and subsequent book My Fat, Mad Teenage Diary.
Watch the trailer here...
My Mad Fat Diary is on E4, Mondays at 10pm and availabe on 4oD
What drew you to the project?
My agent called to say Tiger Aspect had seen my Skins episodes and would I be interested in this new project for E4. They wanted me to set the show up but at the time I was shooting Beaver Falls in South Africa. I read the first two scripts and loved Tom Bidwell's writing (@riskyfluke). I knew that it would take a special person to play Rae so I asked the Production Company to send me the audition tapes for their first choice, Sharon Rooney (@sharonrooney). Her performance was just heartbreaking, she could shift effortlessly from very difficult moments of self hate to moments of real comedy.
The series has two directors, yourself and Tim Kirkby. In practical terms, how does that effect the decision making in the program?
In practical terms it doesn't really have that much of an impact. I opted for prime lenses, where Tim went for a zoom lens; we both had different cinematographers - on Tim's block Giulio Biccari (Forgiveness/ Luther), on mine Suzie Lavelle (The Other Side of Sleep/ Dr. Who).
We did make the decision to keep the same editor, Tom Hemmings (London to Brighton/ Adulthood), across both blocks. He made a considerable contribution to the tone and brought cohesiveness to all the episodes. The producer Matt Bouch (Being Human) was also very important in ensuring both visions weren't conflicting. But essentially we were left to our own devices.
For me, this was the most pure, single point of view drama I'd directed. Before filming I set out a few rules regarding the cinematography, a framework that would keep the story as close to Rae's point of view as possible. I'd read that Andrea Arnold (Fish Tank/ Wuthering Heights) never had the camera in a room before the central protagonist entered, instead it followed them, letting the audience discover the world at the same time as the character. I decided to put the camera over Rae's shoulder – so that we see characters from her POV - and that her single shot would always be clean. I knew this would sometimes be restrictive but my hope was that by sticking to this clean POV language we would be as close to Rae experiences as possible. Suzie Lavelle (DOP) was brilliant in helping me make this happen.
You've worked on 3 productions with Derren Brown and were nominated for Bafta on 'Heist'. Are there occasions where he even surprises his own director?
We were filming the first series of Trick and Treat, the madman episode. We'd lured an unsuspecting participant, Steve into a black cab, locked the doors and drove him thirty minutes across London to a dark alleyway, where we lay in wait with cameras. When the cab turned into the alleyway the radio mics switched on in the taxi and we heard Steve talking on the phone. It was the Police. As the taxi pulled up, Derren opened the door and told him to hang up. I know it was irresponsible and embarrassing - Derren later apologised to the Police - but it was his incredible wickedness that I loved in this exact moment. Derren is our modern day Houdini.
Derren Brown: Trick or Treat from Ben Caron on Vimeo.
How did you get approached for the Jay-Z intro film at Glastonbury 2008? And where you in the crowd to watch it play out?
A friend, producer Henrietta Conrad (@henconrad) - who gave me my first job in TV back in 1999 - asked if I was interested in making a video for Jay-Z. Noel Gallagher had been quoted as saying hip hop had no place at Glastonbury, and Jay-Z wanted to create a response that would play before he came on stage. Of course I said yes. Five days later, after very little sleep and an 11th hour phone call from Jay-Z and, randomly, Bono, to say they wanted to remix the finished sound with "All you need is Love" by the Beatles (I phoned a friend in NYC at www.humanworldwide.com who worked though the night), we delivered the finished film at 8am on Sat morning.
It's a great regret I wasn't there at Glastonbury to see the finished film go out - I was shooting the pilot for the new ITV series The Cube. My editor Ben Campbell was there and said it was amazing to watch our work going out in front of 120,000 people.
Actually I was there, subliminally. We sneaked three flash frames into the finished edit - one of me, my editor, and my wife. It tickles me to think that 120,000 people at Glastonbury saw a brief flash of us on the big screen.
JAY-Z, Glastonbury. from Ben Caron on Vimeo.
After being nominated with Derren Brown, you won the BAFTA for best Entertainment with The Cube. What was your inspiration for the look and feel of the show?
The Matrix and Tron were big influences, as was Apple - I wanted the games to have that same sleek aesthetic.
At the time I was trying to work out how we could do bullet time - in which a camera spins 360 degrees around a frozen object - live in the studio. It's was used on The Matrix but the technology was too expensive and laborious. So in the end we decided to build our own.
Two Olympus i-Speed cameras were set up on either side of the box to capture the action at 300 frames per second, alongside two HD P2 cameras. On top of this, 49 Canon still cameras were rigged up, each taking a picture at exactly the same time with lenses set at anything from 17mm to 50mm depending on the shot required, with a shutter speed of 1/1,600.
The cameras were linked to three computers operated by a second unit production team behind the main set. At the end of each night, 2,500 images sat on a big stack of hard drives ready for editors to slow down or speed up any part of the sequence in post.
Each 60-minute show had four weeks of offline editing and two weeks of online. Mapping, blending, colour correcting and fitting the time-slice sequences into the main action took as long as shooting the show itself.
Over the last few years, you've been working a lot on dramas such as Scott & Bailey and Skins. What is the most challenging aspect of shooting drama?
Making it truthful and allowing actors the space and time to take risks. And 5am starts.
E4 Skins S6 from Ben Caron on Vimeo.
What's been your best day at work to date?
The final shooting day of Derren Brown: The Heist. It was Sunday morning and we had sealed off a large section of the City of London, close to the Bank of England. All twenty-five cameras were in position, we'd rehearsed with stand-ins, and now we had to wait for our final four participants to walk up the street and intercept the security man carrying £100,000 in real cash. We had no idea whether it would work. As soon as the first person pulled out the gun I knew this was going to be a very special moment on TV.
Derren Brown: The Heist from Ben Caron on Vimeo.
If you could change one thing about the film industry, what would you do?
I'd like producers/ line producers/ production companies to be more open to different approaches in the process of filming. Increasingly productions are a carbon copy of each other, all geared towards what has become an cost efficient industry standard for filming drama.
While I totally understand part of my job is to make sure production comes in on budget this is increasingly difficult as I'm often kept in the dark about what the real budget is (as is often the producer!). This means production is lead by cost (often the line producer/head of production) and not the creative. It should be the other way around or at least a negotiation.
I've grown up making programmes for very small budgets and have often found creative solutions to financial constraints. If directors were brought on earlier and allowed to discuss their ideas on how they would approach this particular project I think you would have more exciting and less predictable slate of films. Once the ambition has been agreed, we would begin to plan on to how to achieve the film on budget and on time.
If you ever get any time off, how do you relax?
I escape to far-flung parts of the world with a pair of walking boots, no internet and no phone.
If you could work with anyone (living or dead) and that you haven't already, who would it be?
Daniel Day Lewis is a bonafide, scarily talented actor. Greta Garbo was someone who communicated psychology with just a look. Jack Cardiff was one of the greatest cinematographers or our time. The editor Sam O'Steen was a visionary: in The Graduate, when Mrs. Robinson finally traps Benjamin in the bedroom, Benjamin's head swings around three times, to express his "triple-take" moment of shock. And I'd love to be a fly on the wall for a day's shooting with Scorsese, Hal Ashby, Kubrick, Ozu, Eisenstein, Mike Nicols, Polanksi, Paul Thomas Anderson, or Powell and Pressburger.
You can view Benjamin Caron's full profile HERE
Follow Benjamin Caron on Twitter Follow @benjamincaron
thecallsheet.co.uk is a members only network for professionals working in Film and TV in the UK. With over 1800 members and a database of over 35,000 productions, people and companies, we make it easy to find the best in the industry.