Screenskills' HETV Step up to Production Coordinator 2024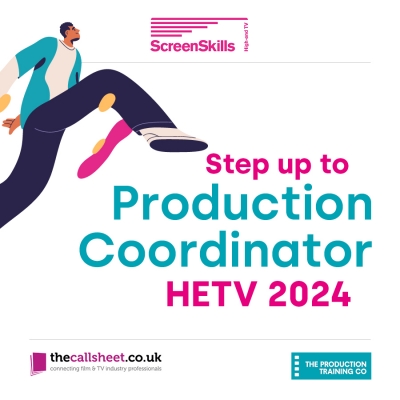 Step up to production coordinator in high-end TV 2024
Are you looking to step up to the role of production coordinator in high-end television (HETV)? Are you already in the role in factual and are looking to move across to scripted?
ScreenSkills' HETV step up to production coordinator programme 2024 is a priceless guide to all you need to know but don't have time to learn in-production.
Our popular Zoom-based course, led by production manager Imogen Gay (Top Boy) supported by Rosie Dias (The Serpent, The Full Monty) and other guest co-hosts, offers a comprehensive overview of this crucial role.
As well as in-depth sessions on the nuts and bolts of being a PC, you will take part in Q&As with Heads of Department in March/April, and attend a networking event with course mates, industry figures and participants from our Step up to production manager programme (applications for that course to open soon).
There is also a 160-page handbook, which previous graduates swear by and are never without.
The course, designed to fit in with busy working schedules, is delivered fully online over weekends and evenings with video catch-up available for the HoD Q&A's (the weekend sessions will not be recorded and must be attended).
The programme is supported by the ScreenSkills High-end TV Skills Fund with contributions from UK high-end TV productions made in the UK. The training course is being delivered by thecallsheet.co.uk & The Production Training Company.
Here is what previous attendees say they got out of the programme:
"My confidence has increased tenfold, I have been seeing a significant improvement in my performance at work. I am beyond grateful."
"Incredibly helpful! It's so hard to learn a lot of these subjects in a busy work environment, but I feel confident I can take on PC tasks now and wouldn't be out of my depth."
"This resource is incredibly valuable. I can't believe it's free AND comes with a biblical guide which I would never relinquish."
"Best course I've ever done!"
Who it's for
ScreenSkills supports current and future generations of talent to flourish in the screen industries. We are committed to embedding diversity in all its forms, including geographic representation, in the workforce we help to build.
The step up to production coordinator in HETV programme 2024 has 30 spaces, and successful applicants will be drawn from:
HETV/film Assistant Production Coordinators
HETV/Film Production Secretaries
HETV/Film Production Assistants
Factual Production Managers
Factual Production Coordinators
We always welcome applications from under-represented groups, including, but not limited to: those from minority ethnic backgrounds; people with a disability; people from the LGBTQ+ community and those from lower socio-economic backgrounds.
We offer inclusive training. If you have any needs which we can accommodate during the recruitment process and beyond, or would like support completing the booking form and/or would like us to send it to you in an alternative format, please email matt@thecallsheet.co.uk
This is a nationwide scheme so we welcome applications from across the UK.
What it covers
The training course will include:
what do senior crew and production companies need from their coordinators?
the role of accounts, art and location departments, costume, ADs, make-up and technical departments and understanding the post-production process.
life of a production coordinator:

schedules
crewing up
tech Recces
working with scripts
casting
call sheets
asset clearances
green practices
child licencing
… and more
How to apply
The course runs in over five weekends in January and February 2024 on the following dates:
Saturday 27 January 1000- 1600
Saturday 3 February 1000- 1600
Saturday 10 February 1000- 1600
Saturday 17 February 1000- 1600
Saturday 24 February 1000- 1600
Q&A sessions will take place on weeknight evenings in March and April, along with the Step up to PM participants. Dates and times TBC.
Deadline for applications: Friday 1 December 2023
PLEASE NOTE: This is not a new entrant programme for recent graduates/runners.