Final Draft Training 2023/24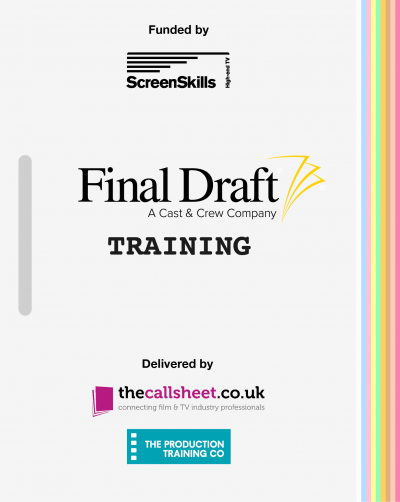 A good understanding of Final Draft is essential for anyone looking to get ahead in HETV production. But whilst a partial working knowledge can be achieved on the job, getting to grips with the software's finer points needs the kind of focus that's hard to come by in a busy production office.
So the ScreenSkills HETV Skills Fund has put together a free fully funded Final Draft training programme for junior to mid-level crew working in HETV (it is NOT aimed at non-scripted crew this time).
The two day course will be held on weekends, with 20 spaces available per group, per month except August). All of the training sessions will take place via zoom except the first session which will be delivered face-to-face in Central London.
Course leaders Imogen Gay and Rosie Dias will guide you through a wide variety of topics, including coloured amendment pages, beat boards, batch changes, creating reports and much more.
Attendees will also have access to pre-recorded interviews with key industry figures such as script supervisors, script cordinators, writers and script editors – and you will receive a Padlet of great resources.
If you don't have Final Draft, we will ask you to download a free trial version, but don't do this until the first day of your course.
This programme is funded by the ScreenSkills High-End TV Skills Fund made up of contributions from UK high-end TV productions.
Who it's for
This course is aimed at junior to mid-level HETV production crew with at least two credits on an HETV production (not including dailies), working in the production office, AD or script department. These include:
APOCs
production secretaries
assistant directors (With a mininum 3rd AD credit)
script coordinators
It is not aimed at crew working in unscripted TV.
PLEASE NOTE: This is not a new entrant programme for recent graduates/runners.
ScreenSkills supports current and future generations of talent to flourish in the screen industries. We are committed to embedding diversity in all its forms, including geographic representation, in the workforce we help to build
We always welcome applications from under-represented groups, including, but not limited to: those from Black, Asian and minority ethnic backgrounds; people with a disability; people from the LGBTQ+ community and those from lower socio-economic backgrounds.
We offer inclusive training. If you have any needs which we can accommodate during the recruitment process and beyond, please let us know and we will be happy to work with you to meet them.
Contact: matt.thecallsheet@gmail.com
What it covers
This two-day training course will be delivered either in person or online and will cover:
amendments and memos including coloured pages
sides and creating scene-per-page scripts
creating a new script and templates
batch changes
alternative dialogue
reports
tagging
Both days will feature exercises where you will put what you have learned into practice in a supported environment.
You will also get access to pre-recorded interviews with a wide variety of Final Draft users to give you an insight into different areas of the software.
You will also be given an invaluable Padlet of Final Draft resources.
How to apply
The training will run monthly from June 23 to Spring 24 on the following dates:
Saturday 3 - Sunday 4 June (in-person, London)
More dates to follow. Please note, the June session will be delivered in-person in London. Please ensure you will be able to travel to the location (King's Cross area) before applying.
All future sessions will be delivered online.
Click 'apply now' to apply for your place on one of the Final Draft course. You will need a ScreenSkills account to complete your application.