100+ Resources for isolation productivity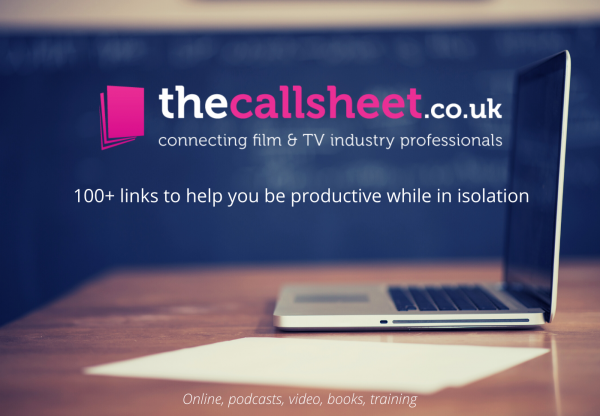 Here's a massive list of resources that we first published in the first week of lockdown in March 2020. It has grown over the last few years and we're adding to it regularly.
Send us any further suggestions of things to add on info@thecallsheet.co.uk
Before we get stuck into the resources, check out our CV Advice and Cover email advice.
Looking for work? Our friends at the TV Watercooler have a very big list of job resources and advice on their website.
Remember to bookmark this page NOW as you will no doubt go off down the rabbit hole when you start clicking the links.
Grouped in no particular order.
Podcasts

Radio Shows

Websites
Training
Youtube
Books
Advice pages from thecallsheet
THE best films and TV shows to watch (if you haven't already)
100+ Resources to help you be productive while in lockdown.
PODCASTS
Scriptnotes – Two screenwriters, John August (Aladdin) and Craig Mazin (Chernobyl) talk about things that are interesting to screenwriters. This is always informative and there are hundreds of episodes to dip in to.
NEW: The Town - Host Matthew Belloni takes you inside the business of Hollywood and the Entertainment industry.
Rule of Three – Comedy writers Joel Morris and Jason Hazely invite a guest to talk about comedy that they love – most of which is classic TV comedy ranging from Alan Partridge (picked by Katie Wix) to Spinal Tap (Sue Perkins) and Ghostbusters (selected by top director Jim Field Smith, who reflects on his own style and process too). The chat is a wonderful mix of insight and giggling. It might be just the right thing to dive into right now.
Roll Credits – A new-ish podcast that contains interviews with a variety of film professionals.
Two Shot Pod - Actor Craig Parkinson (Dot from Line of Duty) interviews actors about their craft.
Soundtracking with Edith Bowman – Interviews with filmmakers about their use of music on film. Big archive to go back through, Edith always gets something different and new from her interviewees and her passion and enthusiasm shine through.
Screenster - Started just over a year ago by actor Georgie Grier, the Screenster pod contains long chats with a variety of professionals from across the entertainment sector. Recent pods include interviews with 1st AD Jude Campbell, Production Designer Jonathan Paul Green and intimacy coordinator Ita O'Brien.
AMPS Podcast – The Association of Motion Picture Sound have recently launched their own Pod. There are only 3 so far in the cannon, but they've already had interviews with the Oscar-winning sound team from 1917 and Oscar-nominated documentary The Cave. Listen on Soundcloud.
Curzon Podcast – staff of the independent cinema chain talk about the latest films
The Bigger Picture – The podcast from the BFI (British Film Institute)
Directors UK – This organisation represents Directors in the UK. They put out a monthly podcast containing (mostly live Q&A) conversations with some very well know directors about their most recent work.
BAFTA Guru – Lots of great interviews and features with professional crew members. Big archive
The Art of the Cut – Steve Hullfish (author of the book of the same title) has published over 50 podcast interviews with a wide variety of Editors from around the world. There are lots of great interviews including several with top British talents like Mark Sanger and Lee Smith, but there are loads of interviews with US editors too. Check Spotify for the podcasts or the TAOTC website for transcripts.
Films To Be Buried With – Actor and writer Brett Goldstein (Superbob), hosts a desert-island-discs for films podcast, mainly with comedians and actors.
6ft from the spotlight - Listed above in the key help section, but listed again as here in the podcast section. Some valuable podcasts about mental health and coping techniques.
The Camera Channel Podcast - A relatively new podcast primarily aimed at the techie camera people that also discusses industry topics.
NEW: The RTS has launched a new podcast, the first five are available now and new episodes are on the way.
NEW: The maestro Roger Deakins' has launched his very own podcast.
NEW: Work in VFX? There are over 35 editions of Access VFX, a pod that explores inclusion, well-being, diversity and opportunities in VFX. Thanks again to Jude Winstanley for the link.
NEW: Thanks again to Jude Winstanley for brining this new pod to our attention. Script Apart discusses the writing process for great movies. The first pod is with Joe Cornish discussing Attack the Block.
NEW: Angels the Costumiers are one of the largest suppliers of costumes to film, TV and Theatre in the world. Explore costume via a series of interviews with Designers, Makers and Supervisors.
NEW: Red Production Company has launched their own podcast. Interviews and talks with the creative teams behind their hit shows like The Stranger, Years and Years and Safe.
NEW: Locations on Two is a new pod about Location Managers. Hosted by Dodd Vickers, an experienced LM from Georgia in the US, check out his interview with the brilliant Emma Pill (1917, Blade Runner, Spectre)
NEW: Red Carpet Rookies is a brand new interview podcast with industry professionals, created and hosted by a member of thecallsheet.co.uk, Mike Battle.
NEW: Soundtracking with Edith Bowman. We cannot believe we missed this on the first publication, our apologies to Edith! In this Pod, Edith Bowman speaks with filmmakers about music in film. Amazing guests.
NEW: Crew Call from Deadline. Recent episodes include Sacha Baron Cohen and the editors of Borat 2, James Thomas and Craig Alpert.
NEW: Show Me The Money. Stephen Follows and Jess Robinson look at the business side of Film and TV.
NEW: Last Looks Podcast. Interviews with some of the leading Make-Up, Hair and Prosthetics artists in the world.
RADIO SHOWS
Please note that some shows might no longer be available for rights reasons.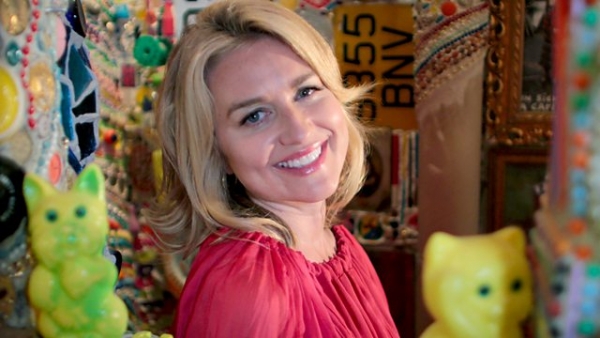 Quirke's Cast and Crew – One of my favourites from the BBC. Antonia Quirke profiles different roles within the film industry. Particular favourites include episodes with Gaffer & Best Boy, Stuntwomen and Location Managers.
David Allen – A goldmine from an unlikely source. David Allen from BBC Radio Solent.
A fantastic, in-depth series of interviews with a wide array of UK Film Crew. There are many in-depth conversations with industry professionals. Here they are;
Jude Farr – Set Decorator
Mark Cass – Stunt Coordinator
Mark Farley – Props
Mark Coulier – Prosthetic Effects Designer
Janie Richardson – Location Finder
Joanne Eatwell – Costume Designer
Tim Webber – Visual Effects Supervisor
Caroline Amies – Production Designer
Brian Beaumont – Gaffer
Andy Spradbery – Modelmaker
Mike Valentine – Underwater cinematographer
Simon Hayes – Sound Mixer
Daniel Kleinman – Director, commercials and opening title sequence for Bond.
Vic Armstrong – Stunt Coordinator (& Indiana Jones stunt double)
Peter Field – Cinematographer
Douglas Ingram – Storyboard Artist
Keith McNamara – Focus Puller
Debbie McWilliams – Casting Director
Eddie Hamilton – Editor
Brendan Donnison - ADR Engineer
Roisin Carty – Dialect Coach
Guy Barker – Production Accountant
Simon Beaufoy – Screenwriter
Jay Maidment – Unit Stills
Joseph Koniak – Hair Stylist
Lucinda McLean – Greens
Gavin Gordon – Carpenter
Stephanie Clerkin – Draughtsperson
Laura Reece – Unit Nurse
Miranda Marks – Production Coordinator
Jane Telford - Scenic Painter
John Lee – Prop Maker
Graham Caulfield - Drapesman
Morris Bright – Chair of Elstree Studios
Other interesting radio shows…..
The Business of Film with Mark Kermode – Britain's best film reviewer looks into the numbers behind the business for the BBC. Really interesting look into the economic realities of the industry. It's four years old, so some things will have changed since it was first broadcast.
The Film Programme - Radio 4 film show that looks at all facets of film making.
NEW: The Black Costume Network - The Black Costume Network was formed in 2020 by Rianna Charles and Jodie-Simone Howe, following the death of George Floyd. Both experienced costumers and creatives, the duo are passionate about advocating change through representation.
WEBSITES
Into Film – Education charity aimed at children ages 5 and up. They recently posted some free activities for young people to do at home. If not for you, this might be a good one to share with parents who are suddenly homeschooling and looking for something to occupy their kids.
BBC Academy – Masses of useful resources for younger people interested in TV.
Creative Careers – This is a big guide to loads of different job roles in the film and TV industry. Loads of further resources too.
TV Watercooler – A website run by non-scripted production crew (so not quite film and HETV drama), but really useful information on topics like work experience and a big list of tv job site database.
Philip Shelley – One for the aspiring screenwriters and script editors. I can vouch for Philip's courses, as I have been on one myself. I highly recommend subscribing to his free email that he sends out every Friday – it always contains some really interesting content.
Stephen Follows Blog – My friend Stephen Follows is one of the sharpest people in the industry. He writes regular blogs using a variety of data sources to learn about what's really going on in the industry. Search through the archive, he's written a lot of influential pieces on gender equality.
Johnny Elwyn – A website for those interested in editing. Looks at the technical, practical and creative elements of editing.
Art Departmental – A great Canadian based blog on the topic of production design, set decoration and all things visual.
BFDG – Sticking with production design, there are lots of great articles on the website for the British Film Designers Guild.
VFX Online – Contains a volume of breakdowns and interviews with VFX professionals working.
Zoom -in from Abbas Media Law – Media law specialists Abbas Media produce a quarterly magazine aimed at programme-makers in TV and Film. It's a round-up of the latest industry legal and regulatory issues, thankfully written in plain English.
Masterclass – you may well have already seen this website advertised. Masterclass is a subscription-based website that contains 80 leading professionals discussing their techniques and craft. Includes Samuel L Jackson, Aaron Sorkin, Ron Howard and Dame Helen Mirren
BBC Writers Room – The central hub of writing training in the UK. There are loads of resources and exercises and you can submit scripts to them too.
Film Industry news websites: Screen Daily (UK based), Variety, Hollywood Reporter, Deadline (US Based).
LMGI - The Location Managers Guild International publish a quarterly online magazine called Compass. If you work in locations, there's loads to keep you occupied and interested. Great interview with Emma Pill on Blade Runner 2049 in particular.
David Thomas - Trainer and expert on freelancing and finances. Follow David on social media for updates. Lookout for webinars on the topics surrounding self-employment.
NEW: A story about a rogue producer who tried, and failed, to trick the HMRC out of millions by making an awful movie. Long read in the Guardian. A Landscape of Lies.
NEW: Talent Manager Simon Wright's website You'd Better Work contains lots of useful advice and tips for those working in the TV sector.
NEW: BBC Writers Room make many of the BBC Drama scripts available to download. This is one for all you aspiring screenwriters. To get started writing your screenplay, the industry-standard software is Final Draft, but you can try using the free Highlander software created by John August.
NEW: Directors Now is a free downloadable book compiled by Lewis Arnold. It contains the stories from 100 directors on how they got to where they are today. No two paths are the same.
NEW: For those interested in Video Assist technology, the main software that is used on most sets is QTAKE. COVID and social distancing changed the way video village worked. Instead of people gathering around a few monitors, QTAKE sends secure signals straight to devices.
TRAINING
Screenskills – This is the industry training organisation and a central hub of training information.
Check out the ScreenSkills FREE E-Learning Modules
NEW: The BSC are creating a series of chats entitled Cinematographers on Call. There are some online already, but several more in the pipeline. Check their youtube channel for chats that have already been recorded and their twitter feed for schedule of upcoming conversations.
London Film School - Are setting up a programme of free virtual masterclasses, online film clubs and small, bespoke workshops. *NEW
Production Accounting Forum – If you work in Production Accounts or are interested in moving into film and tv from another industry, this is the definitive advice set up by the Production Guild.
Movie Magic Tutorials – Entertainment partners have produced and hour-long video explainer for their industry-standard scheduling and budgeting software.
NEW: Albert is leading the charge for sustainability in the screen industries. They are running some online training but there is limited capacity.
NEW: MediaExchange is running events with story guru John Yorke. There's a course for Screenwriters and one for execs and development.
NEW: Editors and post-production people, the Rough Assembly are organising a series of talks that will also be hosted on their website here
NEW: For Make up Artists; the industry kit supplier PAM have a number of tutorials on their YouTube channel.
NEW: Film Birmingham are running an online training course with LM Harriet Lawrence.
NEW: The Cornish Film Festival is putting together a series of talks with professionals from the world of Film and TV.
NEW: The Talent Manager and DV Talent have been running online masterclasses (formats, development, career, financial training etc.) and are announcing new, longer training formats soon. Check them out for employer guidance too.

NEW: Screenwriter David Koepp (Jurassic Park, Carlito's Way, Mission Impossible) has recently uploaded several of his screenplays, including early drafts and films that never got made, to his personal website.
NEW: Screenskills' Freelance Toolkit will help you answer those questions about PAYE, Self Employment, invoicing, HMRC and more. Click HERE
YouTube/Vimeo
There are lots of really good channels on film-making, so click on the links below and dive into the YouTube wormhole!
ARRI Channel – German camera manufacturers make the industry-leading camera gear. Most big films are shot with the Arri Alexa camera and they interviewed lots of top DoPs.
Cooke Optics – Top Camera Lens manufacturers Cooke have made over 150 videos about lighting with many of the world-leading cinematographers, gaffers and more.
BSC – The British Society of Cinematographers Vimeo page contains over 100 videos of talks with DoPs including Roger Deakins, Chris Ross, Dick Pope, Seamus McGarvey and Vanessa Whyte
BAFTA Guru – A huge archive of videos from all walks of the industry. They have helpfully categorised video's by craft department on this page, so you can dive right into all their content on a specific topic.
How to get a job as an Assistant Editor – This is great. A really insightful 2-minute clip about how to look for work. I always share this clip with trainees. It's true for all departments, not just editing.
AVID Channel - Almost every big feature film you watch will have been edited using AVID's software. Their channel contains a lot of information on software, but a huge amount of interviews with the worlds best editors.
Adam Savage's Tested – this is one episode from the Adam Savage channel you might find interesting. It's a look around at a company called FBFX, who are based in West London. They make incredible costumes for films like The Martian.
DP/30 – The Oral History of Hollywood. Interviews with actors, technicians, creatives in the US.
Academy Originals – the YouTube home of The Oscars. Hundreds of interesting videos on all facets of filmmaking.
Hugo's Desk – a fantastically detailed and up-to-the-minute guide to all things VFX. Hugo Guerra talks with plenty of first-hand knowledge about the industry and guides to using software like Nuke.
4Talent – mainly aimed at new entrants that want to develop a career in telly, there are loads of videos available, including some interesting clips and profiles describing some of the more undiscovered roles inside a broadcaster.
TED Talks – we've gathered up some TED talks from notable directors, screenwriters and producers on the topics of creativity & storytelling.
Taikia Waititi – Director
Jehane Noujaim – Producer/Director in documentaries.
Andrew Stanton – Director (expletives)
James Cameron - Director
Rob Legato – VFX Supervisor (Apollo XIII), The art of creating awe
JJ Abrams – Director
Franklin Leonard – Producer
The Last Watch - This isn't on Youtube, but you can find it on Sky or Now TV. A brilliant behind the scenes film following the final series of Game of Thrones. Link is to the trailer.
NEW: The BFDG (British Film Designers Guild) has begun live streaming talks from some of their most experienced and prominent members.
NEW: CVP are posting regular useful videos relating to camera and lenses on their YouTube channel in the lockdown. Thanks to Jude Winstanley of The Unit List for the tip-off.
NEW: Oscar-winning Sound Mixer Simon Hayes is interviewed here by Matt Price. We (Matt Gallagher from thecallsheet and author of this page) have hosted a couple of live interview/Q&A's with Simon before and he never fails to inspire and give energy to every job.
NEW: Screenwriter Michael Arndt breaks down mistakes made and lessons learned while writing Toy Story 3.
NEW: Location Manager Amie Tridgell interviewing some of the best Location Managers in the UK.
NEW: Silver balls are the key for shooting VFX on set, find out why in this great explainer from VOX.
NEW: Want to know exactly what people working on a Netflix Drama set actually do in a day? Check out these great behind the scenes profiles of the crew working on Bridgerton.
NEW: Trade magazine Deadline have produced a series of Production Value videos in which leading creatives discuss their work on well known film and HETV drama.
NEW: Go behind the scenes with INSIDER'S movie themed films.
BOOKS
Aside from getting a copy of Breaking into UK Film and TV Drama! here are a few really good books across a range of subjects on filmmaking.
The Art of Illusion by Terry Ackland-Snow and Wendy Labourn. From the Art Director of Aliens and Labyrinth.
Masters of FX by Ian Failes. Lots of great insights.
Writing for the Cut: Shaping your script for Cinema by Greg Loftin – this book was recommended to me by a top executive working in feature film as his favourite book on screenwriting.
Into the Woods by Drama expert John Yorke, is a richly packed book on the subject of story, structure and character development. A recently published work also, so its up to date in terms of trends.
Getting to Grips: Dennis Fraser by Ed Lancaster. Ed Lancaster is a grip and somehow found the time to write this biography of the most well-known Grips in the UK. Fraser has received lifetime achievement awards, has kit named after him and was key in the creation of the training qualifications that all grips now must take. If you are mechanically minded, possess reasonable strength and want to be literally right where the camera is, gripping might be the role for you. Look at the sort of gear they use on AlphaGrip and check out the Grips Branch for training advice.
The Kid Stays in the Picture by Bob Evans – Incredible stories from a producer legend behind The Godfather, Chinatown and Rosemary's Baby. Bob Evans passed away last year, but this book remains Hollywood's greatest memoir.
Magic Hour by Jack Cardiff is a wonderful memoir of one of the UK's most celebrated directors of photography. Cardiff was born to music hall entertainer parents and became one of the early pioneers of his craft. He worked with Alfred Hitchcock and Powell and Pressburger, winning an Oscar for Black Narcissus. The foreword for the book is by Martin Scorsese, which tells you a lot.
The Filmcraft series – a great collection of books on individual topics including screenwriting, production design, costume, editing, directing, producing and cinematography. I've read most of these and they are excellent.
I'm told that In the Blink of an Eye by Walter Murch and the Art of the Cut by Steve Hullfish are essential reading for all aspiring editors.
The Art of Movie Storyboards by Fionnuala Halligan
The Complete Make Up Artist by Penny Delamar - the comprehensive manual for all make up artists.
Film Runner by Will Judge – Will is an old friend of mine currently working as a high-end commercials editor in Amsterdam, but he started out working for Ridley Scott. His book is a terrific look into the world of the runner and contains timeless advice.
Creativity, Inc. by Ed Catmull – one of the co-founders of Pixar describes the process of setting up the brains trust of creative storytellers like Brad Bird, Pete Doctor, Lee Unkrich and Andrew Stanton.
Difficult Men: From The Sopranos and The Wire to Mad Men and Breaking Bad by Brett Martin - A fantastic book exploring the breakthrough US drama that reinvented television, and the show runners behind them. Thanks to James Johnson for the tip about this book.
Adventures in the Screen Trade: A personal view of Hollywood by William Goldman, the man who wrote Butch Cassiday and the Sundance Kid, All the Presidents Men and Marathon Man. The view of Hollywood is of it's time and while some of that doesn't apply to the modern world, the writing endures.
A Long Time Ago... In A Cutting Room Far, Far Away by Paul Hirsch is a memoir from the editor of Star Wars, Carrie, Ferris Bueller's Day Off, Mission Impossible and more...
NEW: Director Lewis Arnold has compiled a PDF book containing the stories of how 100 directors got started in the industry on the website DirectorsNow.
NEW: This book was recommended to me by Gaffer John 'Biggles' Higgins. Itinerant Cameraman by Walter Lassally, the cinematographer of Zorba the Greek.
thecallsheet.co.uk content
Some resources on thecallsheet that you might find useful
How to Write a CV for Film and TV Drama.
How to write a great cover email
40+ interviews with crew, exclusive to thecallsheet
Interview with Andy Lowe, Gaffer
Glossary of terms and language used in Film and TV (not exhaustive, but a lot)
MOVIES
Finally, here are some of my personal favourite films and TV shows that you might not have seen before.
A top tip, when someone really, really recommends a film to you and you've never heard of it… go in cold. Don't read reviews, don't read the synopsis, don't check rotten tomatoes or watch the trailer – check that the age rating is suitable for you to watch and dive in without any preconceptions*. I promise that you will love it more if you watch without much prior knowledge or preconceived notions of the story or characters.
FILMS
12 Angry Men
Amelie
Whiplash
One Flew Over the Cuckoo's Nest
This is Spinal Tap
Kes
The Truman Show
Leave No Trace
City of God
When We Were Kings
The Princess Bride
Moonlight
High Fidelity
A Matter of Life and Death
Goodfellas
All The President's Men
Cinema Paradiso
Koyaanisqatsi
Jean de Florette
Ghostbusters
Loveless
Coming To America
Hidden
The Secrets in Their Eyes (Argentinian version)
It's A Wonderful Life
Police Story
The Commitments
Weiner
Dr Strangelove
The Conversation
La Hain
The Dawn Wall
Zoolander
Icarus
The Godfather I & II
The Fog of War
Son of Saul*
A Prophet*
Raging Bull*
Under The Skin*
This is England*
Rust and Bone*
Miller's Crossing*
*Fair warning, I've starred films that contain some distressing content and are not suitable for everyone. Please check the age rating and don't watch if easily offended, some of these films are not for the faint of heart.
TV BOX SETS
For those of you keen for something longer form to explore, here's some incredible TV Drama or long-form documentaries from around the world. For my money, The Wire is the greatest TV series ever made, fractionally ahead of The Sopranos.
The Wire (Sky/Now TV)
The Sopranos (Sky/Now TV)
The West Wing (track it down)
Breaking Bad (Netflix)
Better Call Saul (Netflix)
OJ: Made in America (BBC iPlayer)
Gomorrah (Sky/Now TV)
The Office and The Office US (BBC & Amazon Prime)
Peep Show (All4)
Chernobyl (Sky/Now TV)
The Bureau (Amazon Prime)
Mindhunter (Netflix)
The Deuce (Sky/Now TV)
Storyville (BBC iPlayer)
Fleabag (BBC)
Tiger King (Netflix)
Modern Family (Sky/Now TV)
Succession (Sky/Now TV)
Game of Thrones (Sky/Now TV)
True Detective 1&3 (Sky/Now TV)
Line of Duty (BBC)
Inside Number 9 (BBC)
The League Of Gentleman (BBC)
Veep (Sky/Now TV)
I'm Alan Partridge (BBC)
The Last Dance (Netflix)
The Jinx (The Life and Deaths of Robert Durst (HBO)
Hope you find some of the above useful to keep you occupied and using this time of isolation constructively. Email me any suggestions on info@thecallsheet.co.uk
Matt Gallagher
MD, thecallsheet.co.uk