How to Write a CV for Film and TV Drama (Excerpt from Breaking into UK Film and TV Drama)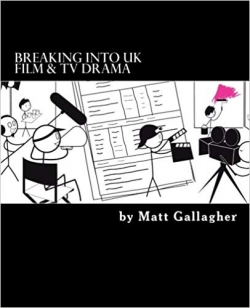 This is a short excerpt from the book Breaking Into UK Film and TV Drama
UPDATE
This original excerpt was taken from the book 'Breaking into UK Film and TV Drama but has been updated for 2021. This is an adapted version of the CV advice to reflect the latest advice. Thanks to Jude Winstanley for contributions.
WRITING A CV
Writing a good CV is vital to all job seekers, but particularly to those starting out. When you are a newcomer to the industry, you will be sending your CV to strangers in the hope that yours stands out enough to encourage the (usually extremely busy) recipient to pick up the phone.
Most crucially, a CV should be kept simple and easy to read, allowing the reader to glean key information about you quickly. It's no secret that an employer will most likely spend less than 10 seconds looking at your CV, so it needs to provide the basics front and centre. You've only got a small window of time to impress them and give them an incentive to read further. As your career develops, the style and format of your CV will evolve.
One quick note for aspiring VFX artists; you will need an impressive showreel to accompany your CV. Make it short (between one to two minutes) and as good as it possibly can be. VFX companies are likely to look at a reel before considering your CV. You will still be starting out as a runner, but a great showreel will help you get your foot in the door.
Here, we will look at the basic CV elements and explain why employers want to see the information presented in a certain way. If you can start to think about your job search from the perspective of the person doing the hiring, you can engineer your approach and CV to best suit their needs. Seeing it from the recipient's perspective is a refrain you will see time and again in this chapter: it's crucial.
Having read tens of thousands of CVs from students to Oscar winners, and having spoken with many head of department across a multitude of productions, I am about to provide practical, useable advice about creating a CV that will get you noticed. It's worth noting, however, that the tips presented here only paint half of the picture; the actual content of the CV is obviously down to you and your experience.
Things to do on your CV:
One page of A4.
Key details at the top of the page (more on that below).
Make sure your contact details are clear.
Make sure your job title on your CV, is relevant to the job you are applying for.
List your work history in reverse order with the most recent employment at the top.
Include a GDPR statement so people can share your CV.
If including a website or profile link, test it out and get others to do so as well.
Use an online spellchecker like Grammarly to make sure there are no mistakes.
Choose a font that is clean and easy to read: Arial, Calibri and Verdana are great choices.
Save as a PDF, titled with your name, role, month/year, so it's easy to find your CV in a file or emails.
When saving your document, check there isn't an additional blank page at the end.
Ensure you can access and send your CV from your phone, so you can send it immediately.
Things NOT to do on a CV:
You do NOT need a photo.
You do NOT need to put your full home address, National Insurance number or date of birth – this is sensitive personal information that is not safe to share.
Do NOT use 'skills bars' – there is no frame of reference, so skills bars are meaningless.
Do NOT put your education at the top of the CV. The first thing an employer wants to see is a job, even if it's not related to the screen industries.
Do NOT write a long profile biography. If you need to highlight something about you, for example, you are a career changer, then just write a sentence or two to explain your change of direction.
Do NOT save the file title as MyCV1.doc or cv.doc.
We can now go into more detail on all of this...

The Headline
The header of your CV should include the most key information the recruiter needs to know: your name, location, contact details, the role you perform (e.g. runner), driving ability and if you have your own car. The reader will then know immediately who you are, what you do and how to get in touch.
Your name should be the first line of your CV, in a slightly larger font; after all, as a freelancer, your name is both your business and your brand.
Here's a CV sample with clearly displayed headline information.
CV sample: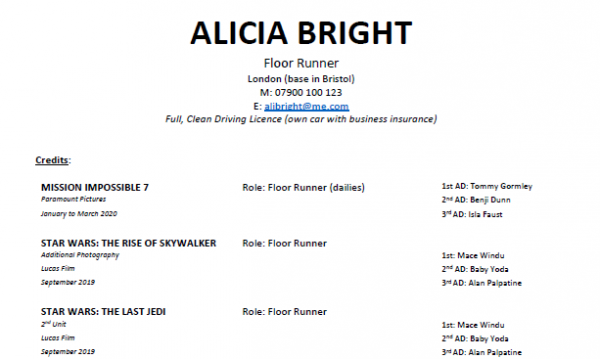 Job Title
After your name, you should state very clearly what role you do, making sure it best applies to the skills, experience and credits you will be listed in the CV below.
Absolutely do not call yourself a filmmaker: the term implies that you are a director. If you are starting out working on big projects, you will most like be a runner, trainee (for a particular department) or location marshal.
You will not walk straight out of university or film school into a head of department role on a serious, large-scale commercial project. You may want to make a second CV if you have smaller-scale productions that you are directing or contributing as the DoP, for example.
Contact Details
It's not enough to simply include your contact details in the body of the email when you send your CV; you need to make sure your mobile number and email are clearly visible in the document. When you save it as a .PDF, you can include a hyperlink for your email address to make it even more convenient to contact you.
Choose your email address carefully and keep it professional as it may need to last you a long time.
The standard format for any mobile phone number on a call sheet or unit list is as a five-three-three formation (e.g., 07700 900 123). It makes it much easier to read on the page and punch the digits into the phone at the same time.
Personal Details
You don't need to list your age on your CV but be aware that most productions are looking for runners over the age of 21 for insurance purposes. Drivers under the age of 21, incur increased costs for vehicle insurance. If you are coming into the industry at a later stage in life, this is often viewed as a positive, as extra life experience is an advantage.
Driving Ability
Many runner jobs involve driving – often just making sure you can get to a unit base or studio in the early hours of the morning. If you're called to unit base in the middle of nowhere for 5 am, then public transport isn't going to get you there and taxis can be really expensive.
Some productions will want you to have your own car, and some will hire one for you if part of your duties require it.
Location
You don't need to put your full home address on your CV. For example, you could just list London as your location. If you wanted, you could list North, East, South or West, but London would be fine. If you have another base you could reasonably live at somewhere else in the UK, you should list that too. As an example, if you have family or friends you know for certain you could stay with in another city, you can list that too.
Where you live can be a key factor in finding employment. Productions usually want runners based in the area they are filming in and possessing local knowledge. You may be theoretically happy to work anywhere and might not include any location - this is just frustrating to the reader, so don't leave it blank. Just put where you are and any bases if you have them.
If you are required to move for a job, many people use the Facebook group Crew Rooms, or Bed Base if filming in the North West, North East or Scotland to find short term accommodation that is amenable to crew.
Credits
A credit really just means a contract. It doesn't actually mean your name on a credit roller on-screen. The main content of your CV will be your credits. We hope that you will be able to list a professional project on your CV at a later stage of this Set Ready training programme.
If you have worked on lots of short films, list them individually or in a section of short films. They should be pushed off your CV as soon as you start to build up professional credits.
List them in chronological order with the most recent credit first. If your most recent project hasn't been released yet, say so and put the estimated release or TX date on it. You can list any projects on which you have worked, even if you did not get an actual on-screen credit for it but be clear about the level and length of work you did.
Never lie about a credit on your CV; you will always get found out. If you've worked dailies or crowd on a project, you must make that distinction clear. Never claim to be part of the main team if you were not. To avoid making this mistake, use the job title that is given to you on the call sheet and include the additional detail in brackets: 'additional floor runner (dailies)' or 'costume trainee (second unit, dailies)'. Only ever use the title given to you by the production.
The listed credits must have some context and all the relevant information for the department;
the title and nature of the production, production company, dates worked and role performed, and the names of the director, producer and head of department.
Below is an example; you do NOT have to lay it out exactly like this in your CV.
Title: Anatomy of a Scandal
Production Company: Netflix
Format: 6x60"
Dates: June 2020 - April 2021
Role: Floor Runner (2nd Unit)
Producer: A N Other
Director: A N Other
Head of Department: A N Other
Giving the names of the director, producer and head of department is important because it's a small industry, and many people know each other or know of each other. If you have worked under someone the employer either knows or recognises, that is a positive association. It also gives them somewhere to turn for an easy reference.
How you arrange your credit information on the page is down to your personal preference. Make the information clear and check the format is repeated and looks the same for each credit you list. Ask people you trust to scan your CV for 30 seconds and tell you what stands out.
Other Work
What about if you have no credits at all? If you have no professional film or TV industry experience, then highlight other personal achievements and the motivations behind them.
Everyone must start somewhere, so relate your existing job to what it might be like working on a film project. Highlight your transferable skills. For example, do you have customer service skills? Does your job require working long, unsociable hours with challenging clients? Have you been handling cash, organising rotas, managing stock or balancing tills? Do you have experience of working with the public in large scale events? Have you gained promotion or additional responsibilities in your current job? Do you manage a team? What are the practical examples you can give evidence for in your CV?
Anyone can simply write "I'm a team player" on their CV, but if you have no film or TV credits, then give the reader solid, objective, evidence from another industry that you would be an asset to their team.
You can include any volunteer work here too.
Personal Profile/Biography
The vast majority of employers looking at your CV will glance first at your credits, they may not take in anything you write in a biography.
If you do include one, never refer to yourself in the third person, and avoid using generic terms like: 'confident', 'dynamic', 'skilled', 'passionate' and so on. Try to actually display these traits in your CV by showing that you've gone the extra mile and volunteered, led, organised, contributed and taken part. Back up your assertions: show, don't tell.
If you have something genuinely interesting that you would like to include in your CV, which doesn't fit easily into the other sections, then it may be worth considering a personal profile. If you are merely following a standard format, then think carefully about whether it actually adds anything to the reader's understanding of you and your achievements.
Training
List any relevant training you've done towards the bottom of your CV. For example, if you've done the latest COVID awareness course, or have undertaken a First Aid course, that information can get lost in a paragraph. Make it read like your credits, with the most recent at the top.
Example:
Set Ready Training (2021)
ScreenSkills: Coronavirus basic awareness on production certificate (2020)
BECTU/Lazurus Training: Emergency first aid in the office and studio
GDPR
You MUST add a GDPR statement to your CV. GRPR stands for the General Data Protection Regulation that came into law in 2018. This was an EU directive to protect the security of our personal contact details and reduce spam. You must be told how your personal information is being used when you share it, which means it can't be passed on without your consent. These directives may change as Britain has left the EU, but at the time of writing, they are still in place and are likely to continue.
If you send your CV to a production company, they are not permitted to save or send your CV onto a contact without your express permission. If your CV contains this sentence below, it means that you are happy for your CV to be shared with colleagues or forwarded to other potential recruiters.
GDPR Statement: This CV may be kept on file and distributed for employment purposes.
References
Employers will consider any name mentioned on your CV as a potential reference and could get in touch with any one of them. In other industries, most people list references at the bottom of the CV, but in the Film and TV sector, the people who you have worked with before are also considered as your referees. If an employer spots the name of someone they know on your CV listed on a production you've worked on too, they are likely to get in touch directly, if they are considering you for employment.
You can also list references at the bottom of your CV if you don't yet have any professional credits, but as time goes on, it will be the names of the people in your credits who will be the references.
Education
This is a section that will probably only feature on your CV for the first year or two of your career. No one will be concerned about your A-Level, BTEC or Degree if you can demonstrate plenty of professional experience and credits. You'll know when the time has come to remove the section.
Finally….
We've said it before and we'll say it again, save the file as a PDF and label as Name Role Month Year.pdf, so it's easy for a recruiter to find it in their files and folders.
Once you are happy with your CV, test it with your colleagues and contacts, and you can begin to start sending it out. Get into the habit of continually updating it; you may find that you will need to amend it for specific job advertisements, to highlight your suitability for a job.
Some useful links for you to check out that also contain CV advice:
Facebook Runners Group*: https://www.facebook.com/groups/tv.runners
TV Watercooler: http://www.tvwatercooler.org/wordpress/
You'd Better Work: https://youdbetterwork.com/
Location Department Juniors: https://www.facebook.com/groups/2047322668911457
ScreenSkills Coronavirus Basic Awareness training: https://www.screenskills.com/online-learning/learning-modules/coronavirus-basic-awareness-on-production-training/
*Members of this group often post their CVs to get feedback from the group. Make sure you read the pinned CV advice and edit your own CV before you post it up for constructive comment.
---