How to write a great cover email for newcomers
Page 1 Blog: How to write a great cover email for newcomers.
Most job applications these days are sent by email, with a cover note and an attached CV.
These tips are specifically for people working in the Film and TV sector and members of film crew website thecallsheet.co.uk
Here's an example of how a cover email should be. Concise, to the point and addressing any specific requirements in the job ad.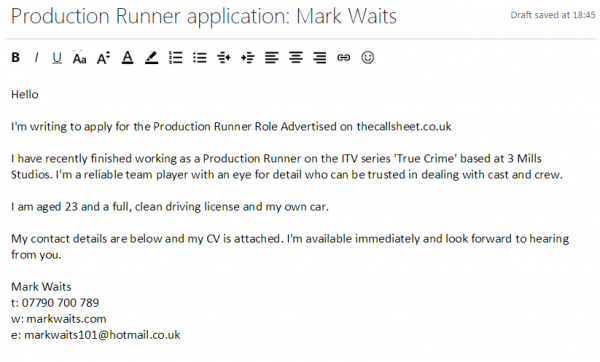 Check out the 10 Top Tips Below
The person sifting through the emails will be looking for a way to whittle down the number of applications to something manageable, creating a shortlist. The first thing the job poster will see is your cover email and if it's too long or wordy, they probably won't open your attached CV. To the job applicant, that may sound harsh, but they have to funnel down a lot of applications to just one person. They may not have the time to examine every application in detail.
It's really important that your cover email strikes the right note and that the freelancer or company is encouraged to open your attached CV. Be informative, courteous and concise.
We see a lot of bad cover emails that don't take into consideration what the job poster is looking for. Here are 10 top tips to avoid the common pitfalls and catch the attention of a potential employer...
1. Don't attach a word doc or PDF with a cover letter. Put your cover letter in the body of the email and attach a CV.
2. Be concise. Too much waffle or irrelevant information shows poor communication skills. Be brief and stick to the point.
3. Address the job description and tailor your cover email for each role you apply for. It's painfully obvious when an applicant has used copy & paste.
4. Tell them where you saw the job and why you are applying. Remember, if you don't have the experience they require, your application is likely to be ignored.
5. Briefly describe your most recent work experience and how it might relate to the description in the job post. It doesn't need to be any more than two sentences, you just need to quickly display your suitability for the role and highlight your attributes.
6. If you can drive, are aged over 21 and are applying for a runner position, mention it in the cover letter. It's one of the first things that a production coordinator/manager will look for. It ticks a box for them and they will be encouraged to examine your CV in greater detail.
7. Spellcheck: Triple check your own spelling and remember that spellcheck will not pick up on correctly spelt words. Spelling mistakes happen to everyone, but try to avoid it, especially in a cover email. Always re-read your cover letter before sending it. Use the Grammarly App.
8. Mention your availability, especially if there are specific dates in the job post. If you are not available for the dates, ask yourself if you should be applying at all.
9. Job titles: does the title on your CV and cover email match the title on the job post? This is a subtle one and an easy way to put off a potential employer. For example, if your CV says 'production manager' when you are applying for a runner position, how might that look to the employer?
10. Email signature: make sure you put your full name, email address and mobile number. If your cover email is forwarded around to others, make it easy for people to find your contact details.
The aim of getting a good cover letter and CV together is to get called in for an interview, that's the goal. You don't need to tell them everything in your first correspondence, they don't want your life story, they just want a reason to pick up the phone to you!
Final tip; make sure the file title of your CV is saved in this format - 'name role month year CV' to help the person receiving the application to file and find your CV in their folders. Your CV should always be in PDF format, not word, not pages, not a jpeg - PDF.
Read more from the Page1blog on the links below.
The Importance Of Being A Runner