How to write a great cover email for newcomers
Page 1 Blog: How to write a great cover email for newcomers.
COVER EMAILS
Most job applications these days are sent by email, with a cover note and an attached CV.
There are typically 2 reasons for sending a CV to someone when you are on the job hunt. Speculative and reactive.
SPECULATIVE: contacting someone to say that you available for work should they need someone.
REACTIVE: applying specifically to a job that you have seen advertised.
In either case, your cover email should be polite and concise. The cover email should be in the body of the email and you only need to attach your CV (in PDF format).
Here's an example of how a REACTIVE cover email should be. Concise, to the point and addressing any specific requirements in the job ad.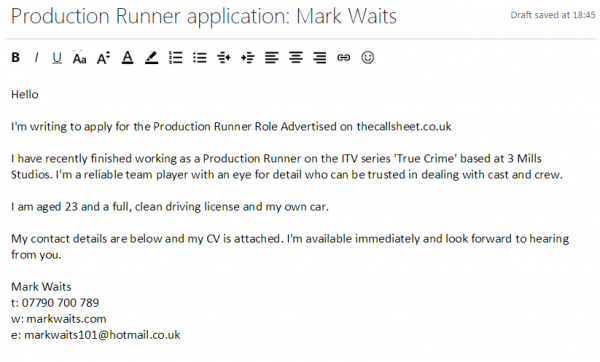 Check out the 10 Top Tips Below
When a job is posted to a popular Facebook group or similar, there are often more than 50 applications submitted within a few hours.
The person sifting through those emails will be looking for a way to whittle down the number of applications to something manageable, creating a shortlist. The first thing the job poster will see is your cover email and if it's too long or off-topic, they probably won't open your attached CV. To the job applicant, that may sound harsh, but they must funnel down a lot of applications to a shortlist of 3 or 4 candidates to contact about the role. They may not have the time to examine every application in detail, as they will have their own job with many other duties and tasks they need to fulfil, aside from hiring someone.
It's really important that your cover email strikes the right note and that the freelancer, or company, is encouraged to open your attached CV. Be informative, courteous and concise.
Here are 10 top tips to avoid the common pitfalls and catch the attention of a potential employer...
1. Don't attach a word doc or PDF with a cover letter. Put your cover letter in the body of the email and attach the CV only.
2. Be concise. Too much waffle or irrelevant information shows poor communication skills. Be brief and stick to the point. If the job listing states that they want someone based in London, who can drive, then address that in your cover email as,
"I'm based in London with a full, clean, driving licence".
3. Address the job description and tailor your cover email for each role you apply for. It's painfully obvious when an applicant has used copy & paste and it doesn't look good when the other applicants have responded directly to the job requirements with a personalised note that corresponds to the criteria.
4. Tell them where you saw the job and why you are applying. Remember, if you don't have the experience they require, your application is likely to be ignored. Also, make sure you are not being over or under-familiar, don't start your email saying "Hi Mate" or "To Whom it May Concern" – if you know the name of the person you are writing to, use it. It you don't have the name, just 'Hello' is fine.
5. Briefly describe your most recent work experience and how it might relate to the description in the job post. It doesn't need to be any more than two sentences, you just need to quickly display your suitability for the role and highlight your attributes. For brand new entrants, this might mean highlighting transferable skills.
6. If you can drive, are aged over 21 and are applying for a runner position, mention it in the cover letter. It's one of the first things that a production coordinator/manager will look for. It ticks a box for them and they will be encouraged to examine your CV in greater detail.
7. Spellcheck: Triple check your own spelling and remember that a normal spellcheck doesn't pick up on missing words. Everyone makes the occasional typo, but try to avoid it, especially in a cover email. Always re-read your cover letter before sending it to make sure that it makes sense and addresses the advert. Use the free Grammarly App if you struggle with spelling and grammar.
8. Mention your availability, especially if there are specific dates in the job post. If you are not available for the dates, ask yourself if you should be applying at all.
9. Job titles: does the title on your CV and cover email match the title on the job post? This is a subtle one and an easy way to put off a potential employer. For example, if your CV says 'camera trainee' when you are applying for a production runner position, how might that look to the employer? They want someone who wants to work in the production office and will be committed to that role.
10. Email signature: use your full name, email address and mobile number. If your cover email is forwarded around to others, it makes it easier for those people to find your contact details and get in touch with you.
The aim of getting a good cover letter and CV together is to be contacted about an interview, that's the goal. You don't need to tell them everything in your first correspondence, they don't want your life story, they just need to know that you can do the job.
Speculative Cover Email
If you are writing a SPECULATIVE email, then make sure you research the individual you are sending your CV to. It's no good sending your CV to a location manager based in Northern Ireland if you are based in London. Use IMDb and other online directories like The Knowledge Online to do some background research BEFORE you contact people.
If you are writing speculative emails to people, they may not always be able to respond. Don't take it personally; when people are working flat out, they sometimes don't have the capacity to respond to every email.
However, make sure that you are not sending out too many emails too often to the same person, use good judgement about when to follow up. When you are finishing your current job and are next available is a good reason.
Similar to this topic:
Read more from the Page1blog on the links below.
The Importance Of Being A Runner