Skills to Screen: Aviation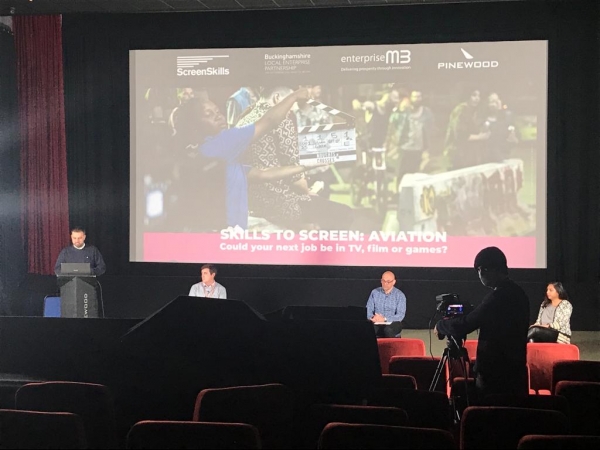 You may have arrived at thecallsheet.co.uk following the Skills to Screen: Aviation talk we did last week. Hope you enjoyed the sessions that were put on and thanks to ScreenSkills and Pinewood for inviting us to speak.
Thecallsheet has particular entry criteria for crew and tend to focus on production crew roles. We have different account types depending on the experience levels of the crew. If you applied for an account, we will opne it but some of the roles on our site might not be the best match for your particuluar transferable skills and experience.
We thought it might be useful to put down a few useful links in a blog for the attendees.
This list is designed to cover a wide range of skills, so ignore any bits that might be relevant to your particular skill set.
The main training organisation for the screen industries. There's a guide to all the different roles and skills in this section and lots of free training and seminars on offer via their website.
This is a directory of all the companies that operate in the screen sector. Take a look at the categories and find service companies. Check their websites for any available roles or email them a CV highlighting your transferable skills.
The British Film Commission have a big map of the main film studios in the UK. As well as Pinewood, Shepperton, there are also Arborfield Studios, Longcross, Warner Bros. Studios Leavesden is a bit further around the M25 near Watford, but they have often advertise roles on the Warner Bros. Careers website.
The smaller studios like Ealing, Black Island, West London and Twickenham are also listed on the Studios Map.
As I mentioned in the talk, there are hundreds of companies on the lot, as well at the pinewood group themselves.
For those looking to become part of the crew, most people tend to start off as runners. I'd recommend also looking at The Talent Manager and this group on Facebook. Obviously, the broadcasters have their own careers pages to check such as the BBC, ITV, Sky, Channel 4.
The internet movie database for researching productions and finding crew who work on them.
Specialist production accounts website run by the Production Guild. Have a look at the interviews with Kelly Phillips (Netflix) and the production accountant Nathan Woods on the videos page.
Supporting creative businesses and filming in the English regions. Often post up job opportunities on their social media feeds too.
Local Film Offices
Make sure you follow your local film offices on social media or subscribe to their emails. It should help give you a picture of the local landscape. Check on Film London, but if you are based outside of London, here's the Liverpool Film Office, Screen Manchester, Northern Film + Media, Bristol Film Office & Screen Yorkshire
Local production hubs
Bottleyard Studios in Bristol, Prime Studios in Leeds, Space Manchester and Littlewoods Liverpool Studios (coming online soon). In Cardiff, there is Bad Wolf Studios and Screen Alliance Wales.
Industry union for crew. Also posts an early bird list of upcoming productions that might be looking for crew.
The David Allen archive contains lots of behind the scenes interviews with various members of crew. Might be useful if you want to find out a bit more about some of the jobs on set.
Other skills
If you're a Driver or work in the ground crew, the leading facilities vehicles company Facilities by ADF careers page might be a good place to look. As well as Location support services such as Location One.
MBSE Provide lighting equipment to the film industry and they are looking for a number of positions in accounts, equipment technicians, account handlers and more, click HERE. They have also launched a training programme with Netflix superficially to bring over talent from other industries to work in the lighting department, it's called Bring to Light.
Engineers might be interested in working in the grip department. Chapman Leonard make Grip equipment (the tripods, tracks, dollies and cranes that support the camera) and they are currently (21/01/2021) are looking for engineers in St Albans (google jobs).
If you work with numbers, such as in payroll, as a cashier, accountant. Then check out the Production Accounting Know-how website. This is probably the biggest skills shortage area in the screen industries.
If you work in food, you might want to check out some of the catering companies such as Crew Catering. Home economists tend to be freelancers, but some of the catering suppliers like Get Set Hire might be good places to look.
Please email us on info@thecallsheet.co.uk if your skillset isn't covered here. We recommend looking up the Knowledge for companies that might match your transferable skills.