Joining thecallsheet.co.uk and entry criteria
There are two main account types on thecallsheet.co.uk, PRO and NEWCOMER.
We review every single CV of each applicant and usually allocate either a PRO or a NEWCOMER account. All basic accounts are free. We use the following entry criteria when reviewing applications.
ENTRY CRITERIA:
To gain access to thecallsheet.co.uk Pro Membership we ask that you are permanently based in the UK and have 2 solid years working on the following:

We DO accept the following;

Feature Films (with a wide cinematic distribution)
TV (for a major broadcaster in the UK)
Commercials (from APA registered companies)
We DONT accept the following as credits;
Theatre Productions
Short Films
Feature Films (without a wide theatrical distribution)
TV (internet based TV shows, non UK broadcasters)
Corporate films
Promos
Virals / Fashion shows / Editorials
We don't open accounts if an applicant has:
Failed to upload a CV with the application. We use this to review each application to open the correct account type.
Selected a Head of Department or senior job title on the application form when their CV does not reflect that.
Has either a full home address, date of birth or NI number on their CV - for GDPR and online safety purposes.
We receive hundreds of applications every month and so cannot provide individual feedback, advice or support.
********************
For new entrants to the industry who are looking for tips, here is a Guide to Writing a CV for Film and TV Drama
Due to the volume of applications requesting a pro account, we are unable to individually respond to each application and refer back to the entry criteria above. We are only accepting applications for Pro membership from crew who have worked extensively on productions that have been widely distributed and for reputable production companies.
***We do not accept any applications from those who work closely with production companies who use insolvency as a means to avoid paying crew and service companies for their work***
********************
If you don't attach a CV to your application, we will send an automated email to request a copy. In some cases where CV's have not been attached and we cannot be sure of your identity we cannot guarantee a response. If you have applied without uploading a CV and not heard a response, please email info@thecallsheet.co.uk with a CV.
If we feel you do not qualify for the Pro account, we will offer you a Newcomer account. The Newcomer jobs board is totally free to access and we only ever post paid roles with reputable companies. Newcomers also get access to the directory, discounts, blogs, news and download templates.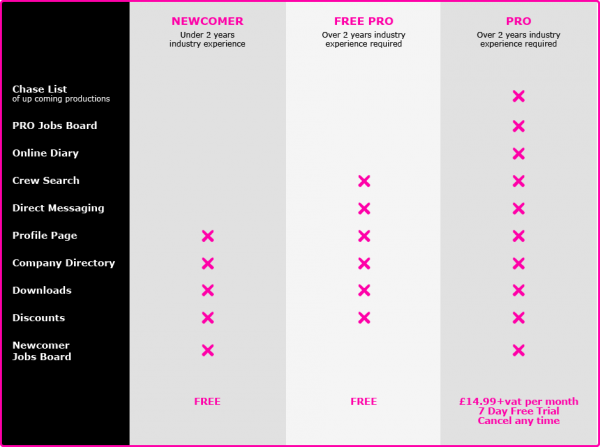 Access to the Pro Chase List, Jobs Board & Online Diary service is only £14.99+VAT (£9.99+VAT for those eligible for the discounted rate). There is a 7-day free trial with no obligation to subscribe. We know what it is like to be freelance so we made the site flexible; you can subscribe/unsubscribe when it suits you. Basic Pro accounts still have access to the directory, Crew Search, in-site messaging and a database of over 50,000 people, productions and companies. Plus discounts, download templates, blogs, interviews, articles and more.
These are just some of the productions posting jobs and searching the database for crew: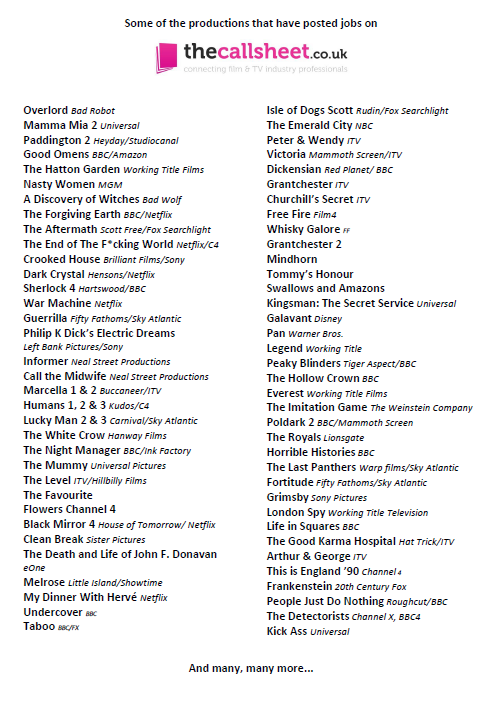 If your experience does not yet warrant a pro account and you do not wish to take a newcomer account, you can look at the following websites mandy.com and shootingpeople.org
For further information about why we only accept a certain band of credits, please see our FAQ section.