HETV Connect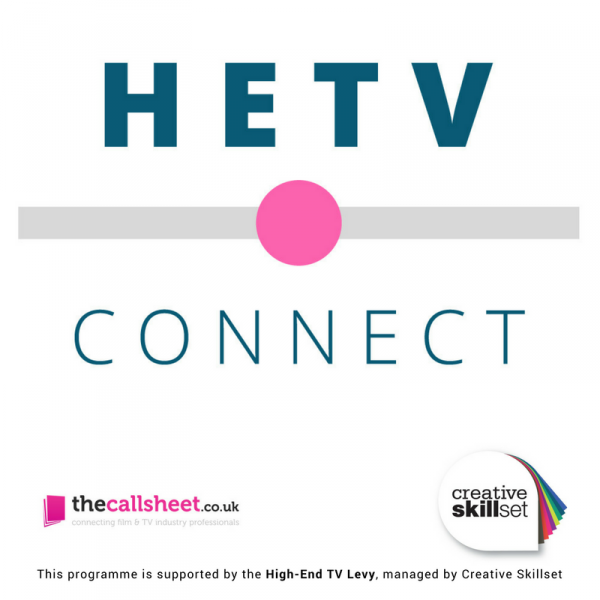 HETV Connect is a new programme which launched in September 2017 to introduce fresh production talent from all over the UK to High-End TV drama production companies. The programme will provide individuals who already have a minimum of 2 years' experience working in, or with an ambition to work in high end TV drama, career development opportunities by facilitating introductions and networking. HETV Connect will help tackle the widely-acknowledged shortage of skills in the industry by providing introduction to fresh talent to widen the employment pool.
Individuals are invited to apply to join the programme from all over the UK, and from a range of disciplines.
HETV Connect is a Creative Skillset programme delivered in partnership with thecallsheet.co.uk. The programme is supported by the High-End TV Levy Fund. (See below for further information.) A list of the production companies who oversee the levy are below.

The chosen 50 applicants will be given the opportunity to boost their career progression via:
Events: Invitations to attend 2 informal networking events with Heads of Productionand Line Producers and hirers hosted in London in the autumn of 2017 and early 2018
One-to-ones to meet and chat with at least 3 HETV production companies over the following 12 months
thecallsheet.co.uk membership: An annual premium membership of thcallsheet.co.uk (worth £180) with access to the pro jobs board and chase list of upcoming productions in development and pre-production

WHO SHOULD APPLY?
We invite individuals with a minimum of 2 years' industry experience in high-end TV Drama, or feature film, TV Comedy or Continuing Drama to apply. Please do not apply if you do not have 2 years experience in one of the listed fields. We are not accepting applications from commercials or non-scripted crew for this programme or individuals without broadcast credits
We are particularly seeking individuals in the following skills shortage roles:
Line Producer | Production Manager | Production Coordinator |
Production Accountant |
Location Manager | Unit Manager |
Script Supervisor |

INCLUSIVE AND ACCESSIBLE
The programme seeks the broadest range of talented people with a good track record in TV production. Part of our commitment is being inclusive and accessible to all, so we welcome applications from candidates from BAME backgrounds, those who identify as disabled or LGBT+ and across the UK's nations and regions.
HOW TO APPLY?
Download, complete and return this form with a copy of your CV and profile pic by the DEADLINE: Friday 6th October at 5pm
(Applicants do NOT need to be a member of thecallsheet.co.uk to apply.)

IMPORTANT INFORMATION:
TIMELINES: DEADLINES, INTERVIEWS and ANNOUNCEMENTS
The deadline to apply is Friday 6th October at 5pm
If you reach the interview stage, you will be notified via email the week of 9th October. Due to the volume of applications, we will not be able to respond to those who were not selected for interview.
Interviews will be held in the week of 16th October. Interviews will be conducted via phone, skype or in person if preferred. Interviewees will be emailed with their time slot for a 15-20 minute interview by the 13th October.
Due to the volume of interviews, we may not be able to rearrange your timeslot so please ensure you make arrangements with your current production to be available.
Interviews will be conducted by professionals from the production companies involved, independent Line Producers, leaders from the HETV Drama team and thecallsheet.co.uk.
Following the interview stage, the successful 50 individuals will be informed by the 20th October.
The successful 50 will be invited to 2 networking events with the Heads of Production, Production Executives, Line Producers, Producers, Writers and Directors, and a range of independent production companies and broadcasters The first networking event will take place on the 1st November 2017 in Central London. It is up to the HETV Connect members to make arrangements to attend this event. Crew from the nations and regions will be able to claim up to £150 travel and accommodation expenses to attend the event. A second event will take place in Spring 2018.
Production Companies involved in the HETV Connect scheme include:
BBC | Carnival Films | Channel 4 | Fifty Fathoms | Hartswood Films | ITV | Kudos | Lookout Point | Mammoth Screen | NBC Universal | New Pictures | Red Planet | Sister Pictures | Sky | Tiger Aspect | Working Title | Warp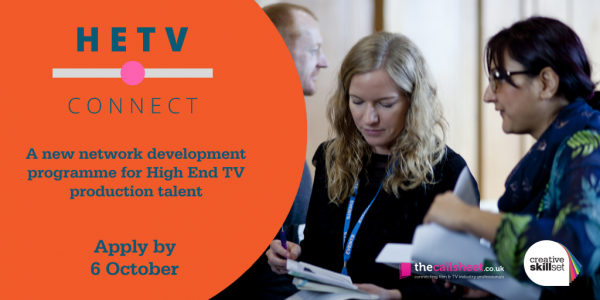 ABOUT THE HIGH-END TV DRAMA DEPARTMENT
The High-End TV Levy Fund is focused on the long-term development of a world-class, skilled UK workforce for the TV drama industry. It delivers a wide range of skills support for crew and talent, from new entrants to those more advanced in their careers, across the UK. Its industry-led working groups and the HETV Council set clear annual priorities for the Levy Fund, identifying effective skills pathways to find, propel and develop High End TV drama talent and crew. The key expectations of the activities of the Levy Fund are:
· UK wide engagement
· Diverse and inclusive
· Agile and close to the industry
· A dynamic profile
· Creating scale through working partnerships
· Accountable to the Levy Fund to ensure value for money and effective outcomes
· Focused in long term skills development

ABOUT THE HETV LEVY
The High End TV Levy Fund, overseen by the High End TV Council, ensures a sustainable funding legacy to support the growth of the UK drama industry.
Since the Levy was established in July 2013, it has committed over £7 million to supporting skills in the High End TV industry.

ABOUT CREATIVE SKILLSET
Creative Skillset works with the UK's screen-based creative industries to develop skills and talent, from classroom to boardroom. We support high quality professional development across TV, film and related sectors – identifying skills needs, targeting skills investment, developing key skills and growing diverse talent networks. Through our industry partnerships Creative Skillset helps to improve productivity, creativity and employability across the UK's screen-based creative media industries. creativeskillset.org

ABOUT THECALLSHEET.CO.UK
A members-only website for professionalcrew who work in UK Film & TV which postsjobs and details of upcoming productions, as well asprovidinga huge database of people, productions and companies. thecallsheet currently hasover 6,000 members. thecallsheet.co.uk

FOR FURTHER INFORMATION
If the information provided here doesn't answer your question, please contact Matt Gallagher at thecallsheet.co.uk via info@thecallsheet.co.uk with any specific queries.

HOW TO APPLY?
Download, complete and return this form with a copy of your CV and profile pic by the DEADLINE: Friday 6th October at 5pm