Waldo Mason, Prometheus

Waldo Mason has worked in the UK prosthetics industry for almost 20 years. His credits span projects such as Saving Private Ryan, Band of Brothers, The Last Samurai, United '93, Harry Potter, Shaun of the Dead, Game of Thrones, Wallander, Doctor Who and many more. We asked him a few questions about Prometheus...
What can tell us about the story of Prometheus?
Prometheus follows a crew of scientists on a mission funded by the Weyland Corporation, following clues left in ancient cave paintings and artifacts that point toward the stars and possibly a race of creatures instrumental in our creation. As you would expect, the mission does not go exactly as they predicted!
What was your role on the film?
I was employed by Neal Scanlan, who handled the creature and make up effects elements of the film (not including the large humanoid creature glimpsed in the trailer, which was the domain of Conor O'Sullivan and his crew). Neal specialises in animatronic creature effects and the intention was to have as much of the creature content as possible be practical as well as the inevitable digital elements some shots would require. I was involved in the build of various creatures and effects, including the Hammerpede, the snake like creature seen in the later trailers.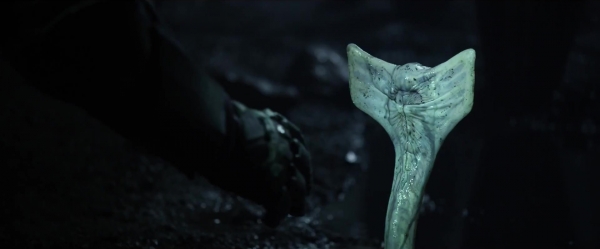 Hammerpede from Prometheus
How do you create a piece like the Hammerpede?
Ridley Scott was very involved in the process of developing the final look of the creature, which evolved during the sculpting process, and we took our cues from nature, particularly for the translucent, muscular aspect. After we produced our silicone animatronic versions, the CG department took scans of them so that the digital versions would look exactly like the physical models and everything would tie together in the final scene.
You were at the Cast and Crew screening recently. What did you think of the final film?
I thought the film looked amazing visually, and after so many Alien sequels it was interesting to see the franchise taken in a different direction with something new to say. Like everyone else I was very impressed with Michael Fassbender's performance and thought that Noomi Rapace did a great job in her first sci-fi lead. And of course I was very pleased with how our work looked on film!
What have you been up to since you finished filming Prometheus?
After finishing on the film I went on to provide prosthetics for various TV shows including Call The Midwife, Wallander & a new Charlie Brooker show called A Touch of Cloth, after which I handled the Prosthetics for Neill Jordan's upcoming vampire film Byzantium. Currently I'm working on a BBC period drama set in Whitechapel called Ripper Street, which as you might imagine is keeping me fairly busy, pretty far removed from alien creatures, but I'm not complaining!
Waldo Mason is a member of thecallsheet.co.uk. You can visit his profile page here, his website here and follow him on twitter. Follow @Waldomason
thecallsheet.co.uk is a members only service for professionals working in Film, TV, Commercials and Promos in the UK. Our members include Oscar, BAFTA and Emmy awarding winning crew working across every aspect of production and all over the UK.
With over 1000 members, 6000 productions and 4000 companies in our growing database, we connect the industry in the UK.