ScreenSkills Production Lab Online 2020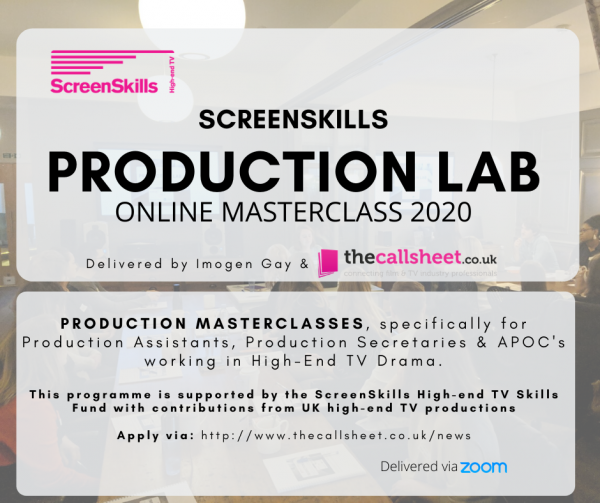 Applications are now CLOSED
ScreenSkills Production Lab 2020
Are you a high-end TV drama production assistant, production secretary or assistant production coordinator looking to up your skills in the lockdown… or a factual production manager and coordinator hoping to move into HETV drama?
ScreenSkills' free Production Lab masterclass is back with more spaces and great guest speakers and will be delivered in three-hour sessions on four consecutive days via Zoom.
What is on offer?
The course, supported by the ScreenSkills High-end TV Skills Fund with contributions from UK high-end TV productions, is led by production manager Imogen Gay (Peaky Blinders, Top Boy), using expertise amassed over a career in high-end TV drama and film for Netflix, BBC, ITV, Channel 4 and Sky Atlantic.
The course contents are carefully designed to give junior production crew a comprehensive knowledge of standard practice across the industry. It covers all the crucial parts of the job including schedules, working with scripts, crewing up, casting, tech recces and call sheets.
Imogen will introduce an impressive range of expert guest speakers:
● Judy McPhee, director at JAM2000 Agency, will talk about child licencing
● Chris May, 1st assistant director (His Dark Materials, Sex Education), will talk about scheduling
● Nicola Chisholm, Casting Associate (Fleabag, The Boy with the Topknot) will talk about casing advice notices (CANS) and cast special stips
● Katie Mullally, junior legal & business affairs executive at Left Bank Pictures will talk about clearances

An invaluable 140-page booklet will also be posted out, to be kept for reference on future jobs.
When does the course run?
Applications are now CLOSED
The course will be available for six groups of 25 trainees, each attending three-hour Zoom sessions on four consecutive days. Each group will be assigned a morning or afternoon slot. Successful applicants will be placed on one of the sessions (dates and times are visible in the schedule below). If there are any dates you are unable to attend, make sure to make a note of that in your application.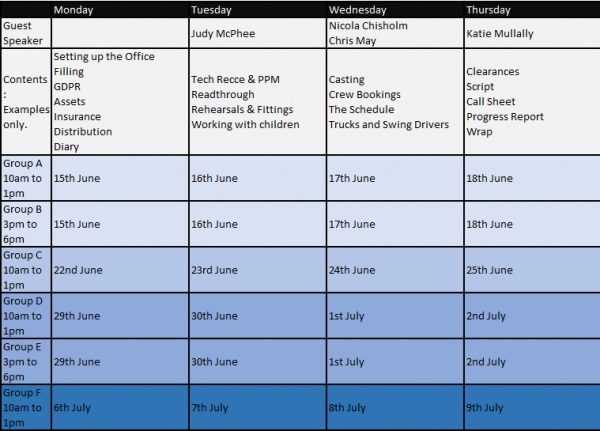 Who is the course aimed at?
In HETV Drama:
Production assistants
Production secretaries
Assistant production coordinators
Production coordinators
In factual
Production managers
Production coordinators
Testimonials
"Production Lab was an amazing experience and really helped to clarify the role of production from start to finish with handy checklists and clear processes to make sure you're covering all your bases from day one and are on top of everything. It was really good at not just explaining how to do things but why you should do things and the wider impact it has. It drilled down into a lot of detail and was really, really informative. I was adding things to my to-do list for work on Monday as I was going along and it's made me feel more confident about how to optimise my efficiency and how to progress in my role."
- Harriet, production secretary, Manchester
"Excellent, comprehensive course. A broad overview of production-related matters, very useful for those wanting to move up a level. A very knowledgeable instructor."
- Karen, production coordinator, Cardiff

"Incredibly helpful! Working on most productions there's hardly an opportunity for someone to take a moment to stop and teach you in detail certain functions and documents; you're usually expected to turn up and do the job, with little to no guidance. Having an opportunity to go through the processes at a pace where I can question anything I don't understand with no pressure/stakes really helps grasp the information, especially having someone as experienced as Imogen to pick her brain."
- Hayder, production secretary, London
"Fantastic course - I feel far more informed which will make me a better asset in future jobs, making me more employable and will also make my job a lot easier! If everyone working in production had done this course, working in film and TV would be A LOT easier!"
- Jamie, production assistant, Glasgow
"Excellent training session. Jam-packed with info, clearly explained, and having a handbook to take away for reference was a huge bonus. Can't recommend enough."
- Claire, costume coordinator, London
How to apply
You will need to complete the details on the application form link below. We will need your address to post a copy of the book and please attach your CV.
Applications are now CLOSED
Applications are now CLOSED
Clicking the link above should open an email with pre-populated fields for applicants to complete. If that does not work for you, please email info@thecallsheet.co.uk for the application form (but ONLY if the link above does not open the application form).
Key dates for Production Lab online.
- Deadline to apply is Friday 29 May
- Groups A and B will be informed by Monday 8 June
- Groups C, D, E and F will be informed by Friday 12 June
PLEASE NOTE: All successful applicants must also be registered and have a profile on the ScreenSkills website.
About ScreenSkills
ScreenSkills is the industry-led skills body for the UK's screen-based creative industries - animation, film, games, television including children's and high-end and VFX. We work across the whole of the country to build an inclusive workforce with the skills needed for continued success, now and in the future.
About the course leaders
Imogen Gay, production manager. Credits include Peaky Blinders, Top Boy, Press and Guerrilla. Imogen has worked in high-end TV drama and film for Netflix, BBC, ITV, Channel 4 and Sky Atlantic.

Matt Gallagher, thecallsheet.co.uk. Matt is the author of Breaking into UK Film and TV Drama and has delivered, led and talked at industry training programmes and events for The Oscars, Warner Bros., Film London, ScreenSkills and Into Film.
Testimonials about the course tutor:
"Imogen has a wide depth and breadth of knowledge in film and TV production. These assets are a great help in bringing together a tight and organised production team. As well as that, she takes the time to share her knowledge & train the up and coming members of the team. In an increasingly busy industry such training is invaluable in guiding & preparing production crew for their future roles."

-Daniel Toland, co-producer (Strike Back, Behind Her Eyes)

"I've worked with Imogen a lot and have found her broad range of production experience and expertise in managing the production office a great asset. She has patiently and diligently trained and encouraged the production department to develop their experience to ensure that all tasks are completed, and the department works effortlessly alongside all other departments and services the production as it should."

-Sasha Harris, line producer (Origin, Guerrilla)
Course contents
Pre-production: setting up the office – what does the office need to run efficiently from day one (templates, accounts, arranging the office); distribution; diary; tech recce and production meeting; read through and notes sessions; rehearsals; casting; child licencing; contracts; filing from prep for delivery; insurance
Production: script; schedule; call sheet; progress report; clearances; trucks and equipment
Post-production: wrapping the paperwork and delivering to the production office; assets
Clicking the link above should open an email with pre-populated fields for applicants to complete. If that does not work for you, please email info@thecallsheet.co.uk for the application form (but ONLY if the link above does not open the application form).