REPORT: Gravity Screenings with Q&A + Networking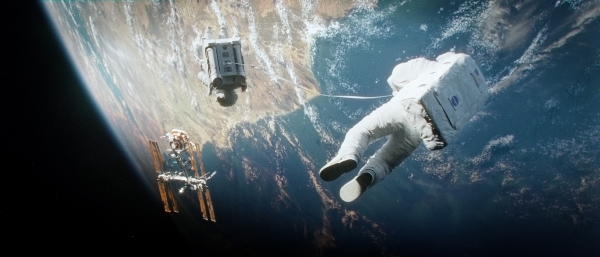 GRAVITY SCREENINGS:
sponsored by:

thecallsheet.co.uk hosted 2 screenings of Gravity at Dolby in Soho on the 9th and 10th of November. Over 120 members and friends of the site, including Oscar winners and Hollywood Producers attended these very special screenings of this incredible film.
With huge thanks to Warner Bros., tickets were entirely free to pro members of thecallsheet.
The film was presented in 3D and Dolby ATMOS. After the film was shown, we were treated an hour long Q&A with Mark Sanger (Editor), Chris Munro (Sound Mixer), Glenn Freemantle (Sound Designer), Steven Price (Composer) and Tim Webber (VFX Supervisor). Following the Q&A, we all enjoyed a few free drinks in the Dolby reception and the chance to talk and network (hint: dont miss our next one!).
Off to join #Gravity editor Mark Sanger, Sound Mixer Chris Munro & Sound Designer Glenn Freemantle at @thecallsheet screening @Dolby London

— movieScope Magazine (@movieScope) November 9, 2013
Rarely does a film unify critics and dominate the box office, but Gravity is a landmark piece of filmmaking. It is already being tipped for Oscars in several categories and is approaching $500m at the box office. It's very possible that all 5 of our guest speakers will be nominated for BAFTA and OSCARS.
Gravity was designed to be screened in 3D and heard in Dolby ATMOS, the latest breathtaking advancement in cinema sound. Ours were the only screenings in central London both in 3D and ATMOS on the weekend of release.
The film is technically spectacular and most of the audience we spoke with felt that ATMOS was the future of cinema. Gravity is a cinematic experience that demands to be seen on a big screen, even Mark Kermode conceded that it should be seen in 3D (For the projector-geeks out there, the Dolby Theatre projects at 14.1.3 foot lamberts, so there was no light-loss).
Private gravity screening with ATMOS pic.twitter.com/0V4jU5mES1

— terry mcshane (@terrymcshane) November 10, 2013
Not only was the Dolby screening room the perfect environment to experience the movie, the filmmakers behind Gravity came to an exclusive Q&A after to answer questions from the audience.
Here's what happened and what they told us:
Sound: Mix and Design
On Saturday night, we heard from Chris Munro, Production Sound Mixer & Glenn Freemantle, Sound Designer: the discussion was moderated by the films' Editor, Mark Sanger. We welcomed several members of AMPS, including last year's Oscar winning Sound Mixer, Simon Hayes (Les Misérables), Stuart Wilson (Skyfall, World War Z) and US sound mixer Lisa Pinero, who is currently in the UK, working on 'Fury' with Brad Pitt. We also had members from Hartswood Films, World Productions as well as DoP's, Editors, Sound Mixers and many more...
Awesome Q&A of #Gravity with @thecallsheet 3D and ATMOS!!

— Oliver Crawford (@OliverCrawford) November 11, 2013
There were lots of questions from the floor for Chris, Glenn and Mark and they covered many topics, starting with Chris Munro, who explained the complexities of the shoot. Although fortunate in being able to use practical microphones that were visible as part of the costumes (1 near the actors mouth and another tucked into the actors hair, by their temple), Chris was responsible for the audio playback and communications between all of the departments and between Sandra Bullock, George Clooney and Alfonso Cuarón. Chris discussed the reasoning behind his choice of microphone and how they were used to capture performances. He already has one Oscar and one BAFTA to his name and we wouldn't bet against another nomination.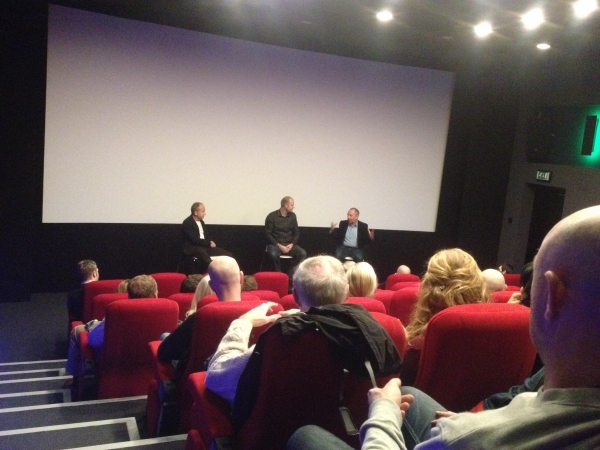 L-R: Glenn Freemantle, Mark Sanger, Chris Munro
Sound Designer Glenn Freemantle described how they came up with the idea the character would transmit sound through touch – as sound doesn't travel through space. Each sound was created by Glenn and his team; he revealed some of the experiments that led him to capturing the right sounds as the characters handled objects in space. He spent time in London, Burbank and Paris capturing sounds and mixing them together – describing the unusual tools and microphone techniques to find the right sounds.
There were several technical questions about the Dolby ATMOS mix, with most coming from sound mixers and designers in the room. Glenn was able to describe how he was able to mix with precision to give that fully immersive experience. The characters spend a lot of time spinning around the camera and ATMOS allows the audience to feel completely surrounded and spellbound by the action.
Editing
Mark Sanger moderated the conversation but was also able to describe much about the production and editing process, despite the fact it was far from conventional. Having started on the film over 4 years ago, few people will have worked closer with Alfonso Cuarón, or have a better understanding of his creative process.
Mark described in detail how he edited the film using guide performances: he and his assistant Tania, would voice the characters Stone and Kowalski, prior to Sandra Bullock and George Clooney being cast. The performances of the actors were then laid over the guide edit, for a short while, Sandra Bullock was acting against Mark's guide performance (until George Clooney arrived)
During filming, small changes in the action had a major effect on all departments, so Cuarón would move between the edit room and the stage to work through any changes. Mark was required to assemble sequences in Avid, to show the logical impact on the scene for each head of department. This communication was vital to the clear direction of the film. Hireworks provided the editing software to the studio so Mark could work closely alongside the actual production process. After filming was completed, Cuarón and Mark were able to edit the movie in London. When Cuarón had to travel, they used a high quality HD video conferencing system from AuDeo to work on the edit from two remote locations.
Privileged to watch Gravity in Dolby Atmos & incredible 3D in company of the films composer,editor & VFX supervisor.Thanks to @thecallsheet

— Catherine (@CatherineScoble) November 11, 2013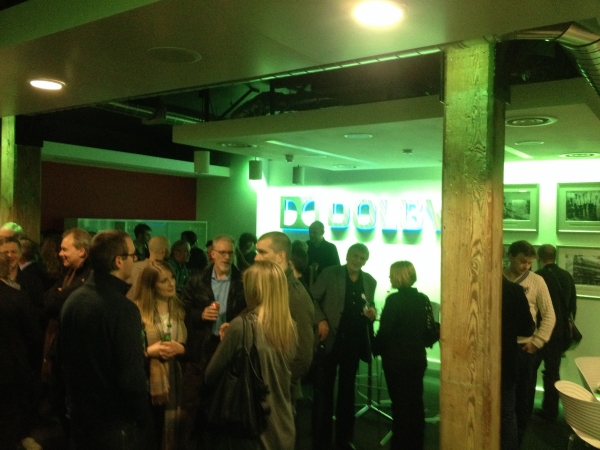 Drinks in the plush Dolby reception area
Throughout both Q&A's, there were several descriptions of Cuarón's ability to distil a number of influences into his ideas, using them as launching pads to spin off in different directions. In conversations during the networking drinks afterward, there were comparisons made between Cuarón and Stanley Kubrick.
On Sunday night, we welcomed back Mark Sanger to moderate, with guests Steven Price (Composer) and Tim Webber (VFX Supervisor).
Again, the audience were stunned by the spectacle of the movie, the visuals and the sound were described as 'mind-blowing' by most of the attendees, who included Hollywood Producers, Directors, DoP's, Production Designers, Distributors, Editors, Make up Designers, AD's and many more seasoned professionals... All of whom were blown away by Gravity.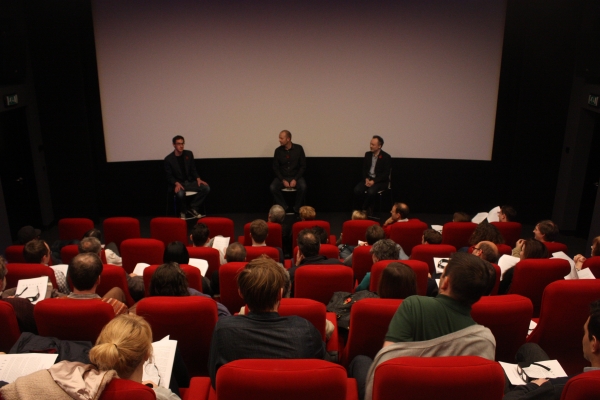 L-R: Steven Price, Mark Sanger, Tim Webber
Music
In the Q&A, Steven Price revealed how he approached the film and described the process of keeping up with Cuarón's lighting quick mind. Descriptions will not do the score justice and the explanation of his approach is just for those who made it along on the evening. You can buy Steven Price's incredible score from iTunes
Nice to see @Bluetrundle again after an amazing Dolby ATMOS special screening of Gravity. pic.twitter.com/ndTIJuyEzq

— Ben Davison (@bendavison) November 11, 2013
VFX
Tim Webber, the VFX Supervisor from Framestore, described how they shot most of the film using the light-box and a master cog to control the speed of all of the departments. Webber and his team were creating the technology to realise Cuarón's vision and it wasn't until a year into the movie that Warner Bros., gave the green light. It was only after seeing Tim's Pre-vis work that the Studio could see where the film was going and they supported Cuarón and his vision. A key element that sold the idea to the studio was when Framestore added pupils to the eyes of the pre-vis characters, to give them life.
We learned that at the very start of the process, Alfonso Cuarón, Mark Sanger, Tim Webber and a storyboard artist sat in a room trying to work with stick model and a spaceship to explain the shots. After much hand waving, the team could then start to build the pre-vis and develop the technology to capture the performances.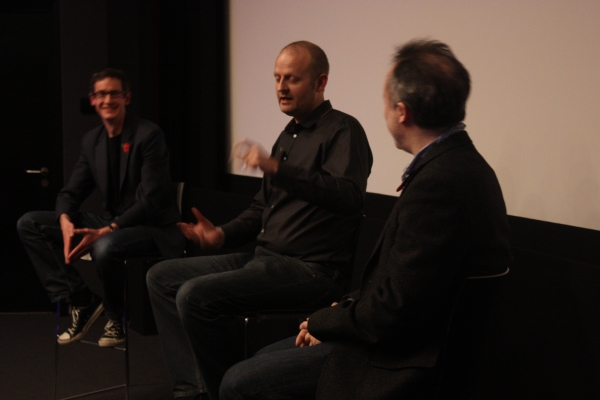 L-R: Steven Price, Mark Sanger, Tim Webber
Creatively and technically, the crew were pushed into new territories by a visionary director. During the Q&A, one member of the audience made a salient point; although the movie was set in space, it was made in Britain. Gravity is a landmark in filmmaking and it took many world-class crew to make it possible.
Over a dozen members of thecallsheet worked on Gravity, including Mark Sanger and Chris Munro. We would urge you to see it in the cinema and in 3D.
Thecallsheet.co.uk will be hosting more Q&A's in the coming months – please make sure you look out for emails – as well as facebook and twitter updates.
If you want to join thecallsheet, you can register HERE
@SteveBPrice, Tim Webber and myself on night 2 of #GravityMovie #GravityMovieUK Q&A sessions via @thecallsheet. pic.twitter.com/s9e01Cic2O

— Mark Sanger (@Bluetrundle) November 13, 2013