Q&A with Gaffer, John Higgins
This interview will also feature in the book 'Breaking into Film and TV Drama' COMING SOON. Sign up to the mailing list HERE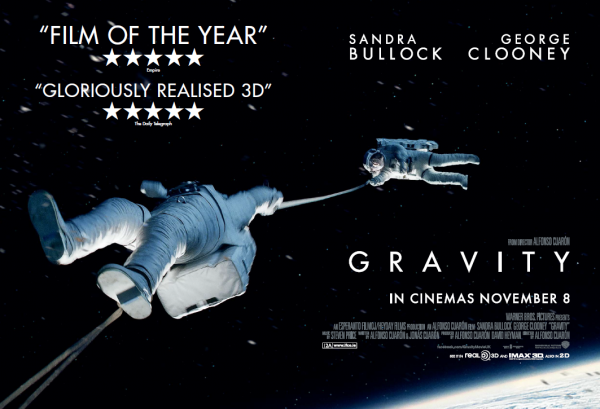 article updated 3/03/2014
John Higgins is one of the world's leading Lighting Technicians in Film. In his role as Gaffer, he has worked alongside some of the leading cinematographers in the industry including Emmanuel Lubezki, Philippe Rousselot, Roger Deakins and Oliver Wood in some of the most challenging environments to film in. His credits include Gravity, Thor: The Dark World, The Bourne Ultimatum, Children of Men, Captain America: The First Avenger, Mamma Mia, Charlie and the Chocolate Factory, The Fifth Element, Finding Neverland, Stardust, Tomorrow Never Dies and many more.
His technical knowledge and creative lighting solutions have been put to the test over a long and illustrious career. At the start of that career, he worked on 1984, Sid & Nancy, Personal Services and Stormy Monday with the great British cinematographer Roger Deakins.
Emmanuel Lubezki won the Best Cinematography at the 2014 Oscars for Gravity; John Higgins was his Gaffer.
John Higgins is a member of thecallsheet.co.uk and he kindly agreed to this interview about his latest film and some memorable moments from his career, including Gravity.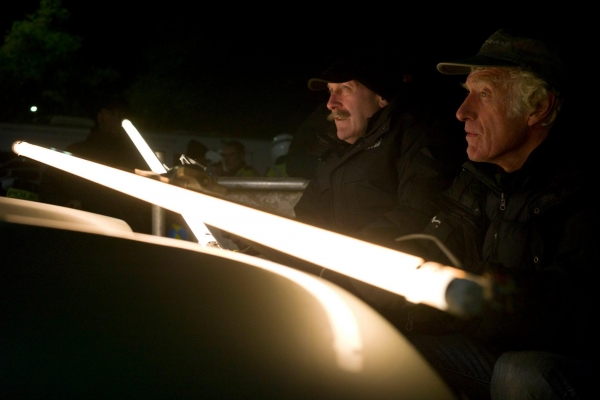 John Higgins with Roger Deakins, lighting Bond's Aston Martin. Skyfall
Congratulations on the Cinematography Oscar for 'Gravity'. In your last interview, you were still under an NDA about the film. Now we know a little more about how the film was made, can you tell us about the process of lighting 'Gravity'?
There were a few different processes. In the "Lightbox" environment we used a moving light (A Robin 600) spot which was mounted on a remote head. This lamp was fitted with a witness camera and was operated by Peter Taylor who is a very experienced camera operator. This provided a very hard light to mimic the effect of direct sunlight.
On some of the capsule interiors we used large diffusion frames to provide the effect of the capsule being lit buy Earth with blue and green filters fixed to the diffusion frames.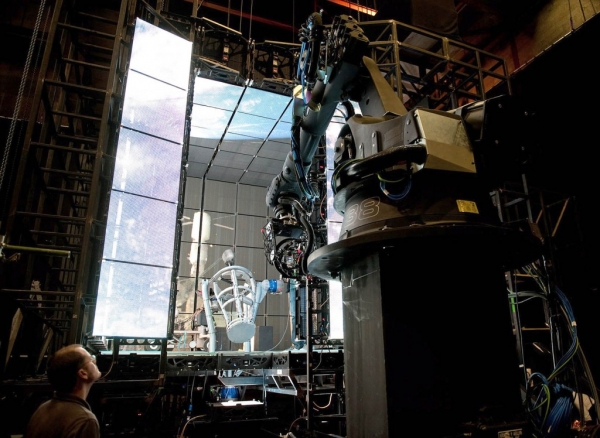 The "Lightbox"
Many of the people we have spoken with about Gravity have stated how it was unlike any other project. Have you ever worked on anything like it before?
No I had never worked on anything remotely like this project. I was so interesting and a challenge as to how we achieved the result that Chivo envisioned.
What have you been working on since Gravity?
I went from Gravity to Skyfall and after that Thor The Dark World.
Skyfall was nominated for Best Cinematography at the 2013 Oscars. You worked with Roger Deakins, who is widely regarding as the best cinematographer in the world, along with Lubezki. Together, how did you create the look for the latest Bond, especially the shoot in London?
Roger has a very definite vision of his requirements and the look he wants. We did some tests and came up with some ideas so we proceeded from there. He communicated his ideas to me and it was easy from his brief to put a plan into motion. I have done 14 or 15 films with Roger in the past so I know how thorough he is in his preparation. This is great for me as I got fantastic guidance from him as to his thinking and ideas. It was he who gave me my break as a gaffer on 1984 which was a technically challenging film and a great learning experience for me.
Can you tell us how you got started in the industry and where your nickname 'Biggles' came from?
I worked for an oil company on Oil Rigs in the North Sea and it came about I had a couple of months leave and I saw a job advertised for electricians for a small film studio. I did an interview, got a job with them and never went back to the Oil Rigs.
My nickname is derived from a very long moustache I had and it is from the Biggles books written by Captain W E Johns , which were schoolboy favourites over many years.
Technology has transformed the film making process, what do you think has changed most in Lighting since the start of your career?
I think one of the biggest changes was the progress in electronics and the use of computers. The standard of control available now from computer controlled dimming, LED technology and moving lights is fantastic. It is an ever evolving and a very exciting aspect of what we do. Also the digital cameras available now running at 800 ASA which produce amazing images is another huge leap in technology. I think every studio film being made now has its stage lighting controlled by computer and also night exteriors rely on computerised dimming.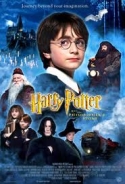 Over the last 15 years, you have been involved in some of the biggest movies made in the UK. You set the template with the first Harry Potter film. How did you approach the lighting and colour palette for those enormous sets?
I always take my brief from the cinematographer and I have been lucky enough to have worked with some of the greatest DoP's in the world. They often have a hugely different approach to lighting a set or location and that is one of the aspects of what I do that makes the job so interesting. The approach always has to be the same and that is to listen to the brief and select some ideas of the equipment which may do the job. Testing is essential and sometimes what might appear to be ideal in theory does not work in practice. I cannot emphasise enough the value of testing.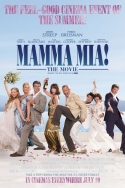 Mamma Mia
The highly enjoyable Mamma Mia was filmed in Greece and at Pinewood Studios, how did you match the natural light in Greece when at Pinewood?
We scouted Greece first and we had to match the searing sunlight of the Greek Island. Haris Zambarloukas had the idea of 20 Kilowatt Mole-Beams to provide the shafts of light supplemented with other high wattage units. We rented every Mole-Beam available in the UK and the result worked very well. All these lights were controlled from a dimming desk.
On The Bourne Ultimatum, you needed to light Waterloo Station while it was open to the public and a lengthy chase sequence through the streets of Morocco. How did you approach those challenging situations?
When Oliver Wood and I visited Waterloo Station it is astounding the mass of people who move through this station during the day. Consequently the safety considerations are immense. Our filming hours were tightly regulated. We were not allowed on the concourse before 10.00 and had to be off the concourse at 16.00. We considered many options of balloon lighting, 18 Kw. HMI rigs etc. So Oliver visited and revisited the station, took lots of photographs at various times of day within our shooting window and he decided that the quality of the light was of a such that meant we only required light for the coverage. We were not allowed trailing leads in any circumstances so the solution was to have shopping trolleys with batteries and invertors to run Kino-Flo Wall-O-Lights or small HMI units. These were held to the side and wheeled in as independent units as required. We also had floppy flags for negative fill. That was it at Waterloo.
Tangier was an entirely different prospect. The Medina gets so busy during the day so the only option open to us was to prepare the sets as much as possible in advance and get the equipment in place prior to the shooting day. We started at first light as this was the quietest time and it was possible to move pick-ups etc. with some ease until it got crowded mid morning. We then concentrated on the individual sets. It required a lot of planning with my rigging Gaffer Wayne Leach and Location Manager Emma Pill.
This interview will also feature in the book 'Breaking into Film and TV Drama' COMING SOON. Sign up to the mailing list HERE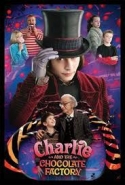 Tim Burton has had you on 3 of his films (Sleepy Hollow, Sweeney Todd and Charlie and the Chocolate Factory) despite having three different DoP's. Is there a certain style of lighting and colour you bring to his films?
I am very fortunate to have worked with Tim Burton on these films. I had worked with Philippe Rousselot before so I understood his style and approach. With Emmanuel Lubezki and Dariusz Wolski it was my first time with each. It is merely a matter of translating their ideas into what is the end product of lighting choices and placement. I do not recollect using any colours on any of these films.
You worked on Children of Men with Alfonso Cuaron, what options for lighting did you have with those famous long takes?
We realised early on that the best way to approach this film, especially the night exteriors, was to use practical lighting which appears in the film as the main lighting source. We modified existing practical lamps to accept higher wattages and again all were controlled from a computerised dimming desk. The day exteriors were, in the main, either large bounces (Ultra-Bounce 20 x 12) or negative fill.
A breathtaking (and technically dazzling) piece of cinema from Children of Men (WARNING: Contains Spoilers)
Children of Men (2006) from Eighty Eight Takes on Vimeo.
You were reunited with Alfonso Cuaron last year while working on 'Gravity', which is due to be released in 2013. There are rumours that Gravity takes filmmaking into a completely new territory, can you tell us anything about it?
As I have signed an NDA (Non Disclosure Agreement) with the production and the film is still at the production stage I cannot discuss specifics. I will say that I had never worked on a project like this before. It was a very fast learning curve and very experimental. I learned a lot on the use of High Definition LED screens. They are quite amazing and it help me a lot with Skyfall where one set required a lot of these screens
Over your career, you have worked on some of the biggest films, with the biggest directors. Do you feel any added pressure given the scale of the project and the worldwide audience?
I think it is only natural one would feel stress and pressure. The financial ramifications of a poorly constructed plan or a major oversight are enormous. I think that the essence of completing your brief successfully lies with planning. I think the pressure does not diminish if one is doing a low budget project as the responsibility is the same.
find out more about:

Is there one piece of advice you would give any young Gaffer or DoP who are the start of their career?
I would say to gain as much knowledge as possible as to what equipment is available and there are a few ways of getting this knowledge. Trade shows are fantastic in this respect as most of the equipment is under one roof it can be a day well spent. The internet is another great source of articles and the rental companies are very accommodating with demonstrations and technical advice. Another piece of advice is to avail yourself of the best crew around. The choice of crew is very important as a reflection of you. They should be encouraged to take on responsibility and feel part of the filmmaking process. Two pieces of advice!!
Among the wide range of equipment that you have on every shoot, what one thing could you not be without?
I guess the one item essential to all our work is a computer.
What is the shot or sequence you are most proud of?
There are many. Two that jump out are the big crowd night sequence in 1984 with the screens in the background and the birth sequence in Children Of Men.
If you could change one thing about the film industry, what would you do?
The one thing would be to not have to work such long hours but in my time in the industry it has always been the same.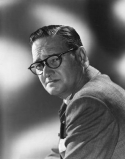 Gregg Toland (1904-1948)If you ever get any time off, how do you relax?
I like to travel, read and rest.
If you could work with anyone (living or dead) and that you haven't already, who would it be?
Gregg Toland ASC (DoP of Citizen Kane)
John Higgins is a member of thecallsheet.co.uk and members can view his full profile by clicking here.
For more interviews like this, visit our CREW INTERVIEWS PAGE
thecallsheet.co.uk is a members only network for professionals working in Film and TV in the UK. With over 4,000 members and a database of over 50,000 productions, people and companies, we make it easy to find the best in the industry.