Production Direct Training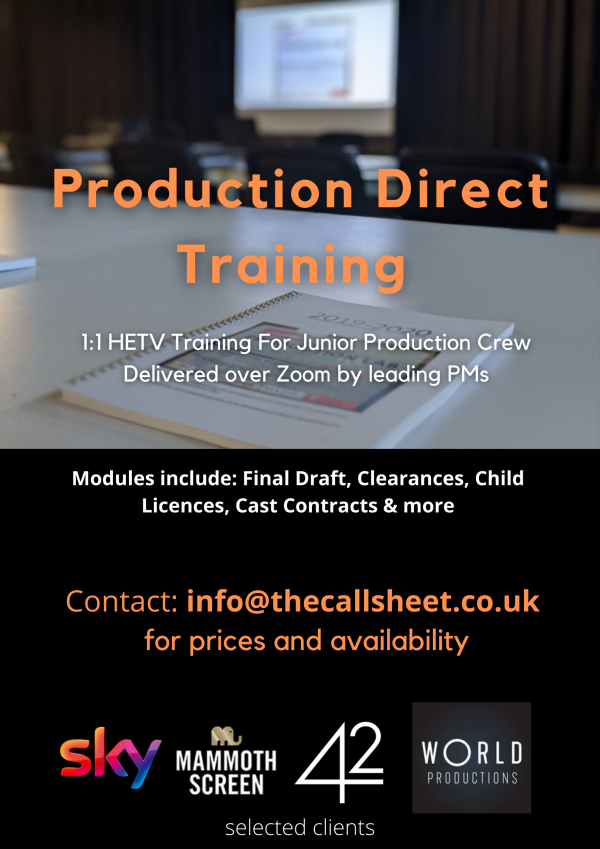 Production Direct Training
"As a high-end UK TV production, we were recommended to connect with thecallsheet through ScreenSkills regarding upskilling some of our crew. I can honestly say the training and support delivered by thecallsheet team was of a very high standard and I wouldn't hesitate reaching out to them again for industry standard training courses. My crew and consequently, the Production have benefitted from the knowledge and professionalism of their skilled lead trainer, Imogen Gay."
Jaynie Miller, Producer, Funny Girl for Sky TV
Production Direct Training (PDT) is delivered by The Production Training Company and Imogen Gay, author of Production Lab book and course. Managed by thecallsheet.co.uk
Imogen Gay (Production Manager: Peaky Blinders, Top Boy) will work directly with junior crew, bringing them up to speed for your production and leaving you free to get on with your workload. UPDATE: Due to popular demand, we are currently recruiting more expert trainers if Imogen isn't available.
PDT will expand on the Production Lab programme; delivering it either as 1:1 or in small groups from different productions, where junior crew can discuss, compare notes and network.
Ahead of the training, Imogen will have a 20-minute phone call with the line manager of the participant to help her target the training specifically for that individual. Training is delivered via Zoom and can be done during the working day or on Saturday mornings.
Costs are expected to be paid for by the production company, production or via a bursary such as the Make A Move scheme from ScreenSkills.
For 1:1 Training, the first hour is £200 per hour, then £150 per thereafter. Costs to be paid for by the production, production company or training organisation. For additional participants on the same calls, the rate is an additional £50 per person for the first hour, followed by an additional £25 per hour thereafter. Eg. 2 crew would cost £250 for the first hour and then £175 for each hour thereafter but only if they are on the same call.
Participants will be posted pages of the production guide for the sessions booked, containing templates, examples, guidance notes on the topics below. Our trainers will call the line producer of the participant ahead of the training to help set targets.
Contact matt@thecallsheet.co.ukfor more information.
Production Direct Training Modules
1. Setting up the Office: What does the office need to run efficiently from Day One. (2hours)
2. Filing: How to start and what to ask (1 hour)
3. GDPR: General Data Protection Regulation (1 hour)
4. Assets (1 Hour)
5. Insurance (1 hour)
6. Insurance: Casting and the Production Office Responsibilities (1 hour)
7. Insurance: Action Vehicles and the Production Office Responsibilities (1 hour)
8. Distribution & Distribution Logging (1 hour)
9. Diary & Managing the diary on a daily basis (1 hour)
10. Purchase Orders and working with the Production Accountants department (1 hour)
11. Travel and Accommodation, tracking, ordering and planning (2 hours)
12. Tech Recce and Production Meeting (1 hour)
13. Read Through and Notes Sessions (1 hour)
14. Rehearsals and fittings (1 hour)
15. Casting, Confirmed Cast Members & The CAN (Casing Advice Notice), Tracking and Communicating details of Cast Bookings (3 hours)
16. Working with Children (2 hours)
17. Crew Bookings (1 hour)
18. Schedule (1 hour)
19. Trucks and Swing Drivers (1 hour)
20. Clearances (2 hours)
21. Final Draft (3 hours)
22. Call Sheet (1 hour)
23. Progress Reports (1 hour)
24. Wrapping the Paperwork and Delivery (1 hour)
25. NEW: The Life of a Purchase Order (2 hours)
Contact matt@thecallsheet.co.uk for more information and booking
About:
Production Direct Training follows on from the flagship Production Lab course, which was launched in 2019 to address the skills shortage area for junior production crew.
Production Lab has trained over 400 junior production crew in the last 2 years. This includes our pilot programme, a ScreenSkills funded programme which delivered in 5 key cities around the UK plus a ScreenSkills funded and COVID-adapted switch to online learning and bespoke training of 30+ freelancers for Netflix.
TESTIMONIALS
Production Lab has been a massive help and has given me a fantastic insight into what it takes to get a production from start to finish. The handbook will be invaluable for future productions. Imogen is very knowledgeable and presents the information in a fun and friendly manner. I would highly recommend it.
The Production Lab was exactly the course I needed to make a confident transition into working in the production office. Previously I was very aware of the skills gaps that I had, and when I read the course overview, Production Lab was going to directly address all of them. I was so pleased when I was accepted and happy to report the course was everything I needed and wanted it to be. I've also been armed with a textbook of templates and checklists that will remain on my desk for years to come, I'm sure.
98% of attendees would recommend Production Lab (400 attendees surveyed).
Contact matt@thecallsheet.co.uk for more information and booking