Lost in London wins PG Award Team of the Year, 2018.
The Lost in London UK production team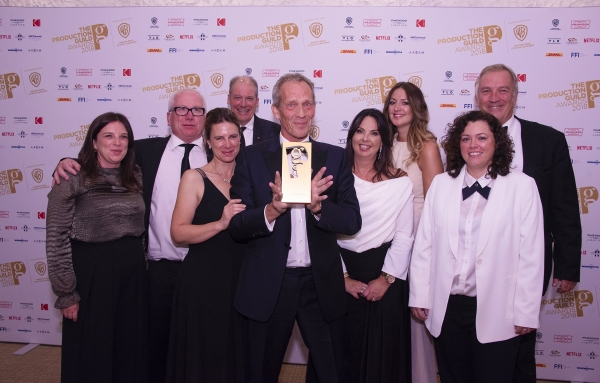 Winner: The Production Guild Team of the Year Award sponsored by Panavision
The UK production team behind Woody Harrelson's ambitious directorial debutLost in London, whoreceive The Production Guild Production Team of the Year Award sponsored by Panavision.
Woody Harrelson, Director/Producersaid "I want to congratulate everyone who worked on Lost in London on this Production Guild Award. There were so many obstacles that seemed almost insurmountable. The concept of shooting in real time was crazy enough but to live broadcast as we shot it; well, some people called it insane and I did think the same myself on a number of occasions! I'm very proud of the movie and I don't think the team could have done a better job. They really exceeded my expectations and certainly those of the multitude of people who said it couldn't be done. So thank you all so much for being a part of that great experience and thank you to The Production Guild for proffering this award to these very first-rate artists."

The first film ever to be broadcast live, Lost in London was shot in a single take with one camera over 100 minutes and starred Harrelson, Owen Wilson and Willie Nelson. Featuring a cast of 30, more than 250 supporting artists and 260 crew, filming began in London at 2am on 20 January 2017 and was broadcast live across more than 550 US cinemas and one UK screen.
We spoke with some of the key crew on the production.
---
Andrew Warren (Co-Producer)


What were the biggest challenges facing the production team?
The real challenge exclusive to this was the live broadcast issue, which was brilliantly handled by Vicki (Bethivas, Live Producer) and her team. Though an unexpected consequence of going live means that you have to do your post production before you shoot… which we hadn't thought of! This meant recording sounds off, music, credits etc beforehand and then on the day there was a massive truck on location where sound and music were mixed in live as well as sub-titles and the front and end credits.
What's the hardest part of continuous filming on the streets of London?
As we filmed in January the weather could have been an issue but luckily for us it wasn't - it snowed the week before and rained on one of our tech runs. This could have given us rain on the lens - as we were trying to keep the weight of the camera down (for a two-hour hand-held shot!) we didn't want to add things like rain deflectors, which are also noisy. We were lucky on the day that it didn't rain. Steaming up of the lens also had be addressed and special heating rigs made.
Another issue was traffic and crowd control - which involved police escorts and traffic on Shaftesbury Avenue, Southampton Row and Waterloo being held as our convoy made its way from location to location - filming as it went. We also had Marshalls dotted around to keep public out of shot - though one of the benefits of filming at 2am is that there aren't too many people around!
The biggest challenge though was always having direct line of sight to an antenna to maintain a feed to BT Tower. This meant not only all the antennae on roof tops across London but also whenever we were travelling in vehicles, a blacked-out van with transmitters in had to follow very closely but without getting in shot - this was probably the most precarious element of the shoot. (We also, rather unhelpfully filmed in three different basements which didn't make life any easier!) In the dress rehearsal we lost connection twice and this was at midnight only 24 hours before transmission - this was the one time that things felt a bit ominous.
What happened when you received news of the Waterloo Bridge closure?
Woody was amazingly calm. We couldn't actually go to a new location because there would be no time to get antennae up and so we'd have no radio signal. The only thing we could do would be to finish the scene outside the police station and not make the run to Waterloo Bridge - which would have been a shame and not such a beautiful place to end the film. We rehearsed it there but we knew an hour or so before that the bridge was clear.
Did anything else unexpected happen?
One crazy thing that happened was that an actor thought his part was finished and wandered off, when he was meant to appear two minutes later on a different location. Woody's character was meant to be on the phone to his wife at the time and had to improvise a long phone call while the actor was hastily found and taken back to set…
What was the most satisfying element of the shoot for you from a production perspective?
Purely that it all went without a hitch and that we'd pulled it off for the brilliant Woody who had put his heart and soul into the project for four months. I have no idea how many people saw it or how it went down overseas, but if anyone looked into it they would have to be impressed!
---
David Broder (Supervising Location Manager)
How many locations did you arrange for Lost in London and which were the most challenging to secure permissions for?
Six key locations and over 300 residents and businesses had to be consulted and informed. Also 12 rooftops were accessed for receiving antennas with six miles of cable in use. This was the largest outside broadcast of its type since the 2012 London Olympics.
How big was your crew and how different was it to normal because of the live shoot?
A core location team of 12 augmented with 40 security stewards and traffic managers, along with six police motorcyclists and a supervisor. All the locations team including the police officers took part in the rehearsals to ensure that every team member was in the right place at the right time. Over 60 radios were listening to my updates and when to block roads and traffic lights. The shoot was a cross between a live theatre performance and a film shoot. All crew were part of the performance and had to get all the timings absolutely right.
Can you describe what happened when the team received news of the Waterloo Bridge closure?
We didn't have a back-up plan for Waterloo Bridge as it was the big finale of the film. We were discussing other options when the news came through that the bridge was cleared. The Metropolitan Police Film Unit was key to the success of the shoot – they worked very closely with us, all seven officers were with us for the four days of rehearsals and shoot. We also worked with Transport for London, Westminster and Camden Film Offices.
What was the most memorable moment of the shoot for you, personally and why?
Listening with Steve Dixon the Police Supervisor to the countdown from the Met Police Emergency Control Room of the Royal Navy boat removing the bomb and then letting Woody and the team know that we had the all clear.
---
Paul Tomlinson (Location Manager)
What were the toughest challenges facing your part of the production office?
My role involved managing all the traffic management, pedestrian lock-offs and security for the exterior scenes in the film. Since it was all filmed in one shot, we had to create a controlled 'bubble' around the filming locations as we moved around London. It was a unique experience as we had a vast team of Police, Traffic Management Officers and Security who had a very choreographed set of positions for each scene within the film. The toughest challenge was trying to maintain control of all our sets as we moved around the city after dark and being able to deal with the unexpected issues that often arise when filming public exteriors. Thankfully we had several rehearsal nights, and a great team, so by the shoot night everyone knew their positions and were able to respond to issues as they arose.
What did you do differently on this production?
Live broadcast was something I had never worked on before. We had to plan each location for a very specific time and be much more mobile in the way we managed each exterior scene. It was quite a contrast as normally when filming an exterior location you're in one place for a longer period of time and have to be very broad with your plans for controlling the area.
What was the most memorable moment of the shoot for you personally?
I think the whole live broadcast aspect was the most memorable and enjoyable part for me. Before we filmed there was a live countdown which helped to build the tension! It was also fun to be working on a project as people were watching it in cinemas; normally we work on productions months before they are released, but on this occasion I had friends who went to the cinema and were watching whilst we were filming it!
---
Jade Robertson, Location Coordinator
What were the toughest challenges facing your part of the production office?
In my role I prepared proposals, arranged and attended meetings with various authorities in London, including the MET Police, various departments within Transport For London and Crossrail, whilst maintaining daily contact with Camden and Westminster Film Offices.
What did you do differently on this production?
I carried out my largest consultation so far in my career. It was important to obtain a unanimous no objection from authorities, businesses and residents to our filming in the area, partly due to the hours we were filming and the road and pavement closures we would operate.
What was the most memorable moment of the shoot for you personally?
I worked very closely with the live broadcast team, securing many rooftop positions that had a clear line of site to enable the live transmission. Hearing the countdown to the live show was probably the most memorable moment. I also made some very strong relationships and good memories with the various teams involved, including police and film officers across the borough, this is something that will remain my fondest memory.
---
Samantha Black (Production Coordinator)
What were the toughest challenges facing your part of the production office?
Dealing with the logistics of a live shoot, there was no option for another take if anything went wrong, so the pressure to have everything in place and double, triple checked was immense for all departments. Having an experienced live broadcast team on board was great but of course even they hadn't dealt with all the scenarios this production threw up so it was a learning curve for all concerned.
What was the most memorable moment of the shoot for you personally?
When the news broke in the early evening of the live broadcast that the unexploded WWII bomb had been discovered under Waterloo Bridge - the location for our final scene - with nerves already stretched to breaking point this was not the news that we wanted to hear!
---
Ann Marie Fitzgerald (Finance Controller)
What were the toughest challenges facing your part of the production office?
The challenge was the unknown, as having never had the experience of filming live every day threw up something new, technology problems, weeks of rehearsals, multiple production meetings and updates every day. But it was actually this constant communication from Woody, Ken and Andrew and their insistence that everyone, including us in accounts, were 100% up to date with what was happening, that helped us with the unique challenges of this project.
What did you do differently on this production?
I totally enjoyed the production from start to finish which is very rare. All departments and crew had a very strong feeling of being involved in a unique and different project and a huge feeling of excitement was palpable across the entire crew including the accounts department. We were all so immersed in the film, myself and the accounts team felt so much more like members of the shooting crew rather than the usual misfits on a typical production.
What was the most memorable moment of the shoot for you personally?
We were so involved with the production, we worked on the days of the shoot and then attended the nights of the live shoots, but it was so exciting we never felt tired. We all felt the tension and nerves of the crew while watching the filming from the green room. I remember thinking it was like taking an exam which you had prepared so hard for yet it was all out of your hands on the day. The sense of achievement and elation on the last night was overwhelming.
---
Corrine Millson-Crane (1st Assistant Accountant)
What were the toughest challenges facing your part of the production office?
Accounts worked closely with each department to provide the financial support they needed when faced with the many fresh challenges that wouldn't usually exist. With the shoot being condensed into such a short space of time and the additional 'live' element, the pressure was high to have everything ready for shoot day #1; every set, prop, location, costume, piece of equipment, for every scene and every actor and supporting artist. From a financial perspective we had to be flexible and understanding of these pressures whilst not only adhering to the usual rules and regulations but also controlling the expenditure.
What did you do differently on this production?
Lost in London was a truly unique experience because so much of the work relied on prep and making sure we had a plan in place for absolutely everything to hit the department at once!
What was the most memorable moment of the shoot for you personally?
From start to finish Lost in London was without doubt the most enthralling production I've worked on. It was incredible to be a part of something never been achieved before and see each new challenge along the way being overcome. It certainly wasn't all plain sailing, I'll never forget the exhausted look on Woody's face as we passed him on the stairs returning from a dress rehearsal that had gone disastrously wrong just two days before the live shoot. The buzz of the shoot week reminded me a lot of when I was involved in theatre productions, we all sat and watched the live take together, almost unable to watch for fear something might go wrong. When the credits finally rolled the room burst with a mix of celebration and jubilant relief.
---
Pollyanna Gill, Assistant Accountant
What were the toughest challenges facing your part of the production office?
The accounts team was small and even for a small budget production it still had all the usual demands. I feel the other departments were under the most pressure but they handled it amazingly and we supported them as much as we could to help share the load.
What did you do differently on this production?
For us it was the usual number crunching but the crew prepping to broadcast live to LA meant they were working split days, so we ended up working the same hours as them instead of the usual accounts day shift. Logistically this made more sense, but it was also great because we were more involved in the behind the scenes action.
What was the most memorable moment of the shoot for you personally?
Watching the live broadcast on screen in the catering room, everyone sat on the edges of their seats waiting for something to go wrong, especially as there had been technical difficulties just nights before the live broadcast. Luckily all was well and everyone stood up and cheered when the credits started rolling at the end, which was such an amazing atmosphere to have been a part of.
Full list of PG Award 218 winners here