Interview with Beth Barnette, assistant editor at Pixar
Beth Barnette is an assistant editor at Pixar Studios and a friend of thecallsheet.co.uk.
She recently gave an interview to the Motion Picture Editors Guild, who have very kindly allowed us to reproduce the article here. In it, she talks about working at Pixar and on projects such as Battlestar Galactica.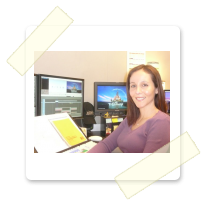 Beth Barnette, Pixar Studios 2012
Where are you currently employed?
Pixar Animation Studios in Emeryville, California.
Current Project?
I work on Toons — short films that feature our legacy characters, meaning characters from our features like Toy Story and Cars. Our most recently completed project was Small Fry, involving Toy Story characters, which played in theatres with The Muppets. We are currently working on a project that we hope will premiere theatrically this year. Other Toons that we produce premiere on ABC Family and the Disney Channel. It takes up to four years to make a full-length feature here, so it's nice to work on multiple shorts. It's a faster-paced environment than some of the other groups at Pixar.
Describe your job.
Being an assistant editor in animation is much more challenging than I expected. We're like the Marines — the first ones in and the last ones out. The editorial department works on a film almost as long as the director and producer. We receive thousands of storyboards, record hundreds of lines of dialogue and receive a constant flow of shots from the different production departments: layout, animation, effects, lighting, rendering and image mastering. Considering we're working on multiple shorts at a time, it adds up to a lot of terabytes.
Another big part of my job is overseeing recording sessions with voice talent. This is one of my favourite things, since I get to work with the actors and recording engineers who bring our Pixar films to life. Our recording sessions are similar to recording ADR without picture but with a lot of improvisation, which presents a challenge for logging and slating. Post-recording, it usually takes three times the recording time to log and prep the dialogue for the editors. Other responsibilities include cutting in sound effects, taking notes during reviews, prepping for mixes, exporting to the animators and telling lame jokes to my editors.
A day in the life of John Lasseter - full length documentary
Pixar is the only company I've worked for that provides amenities to improve the work/life balance of its employees. Besides having an amazing gym, we have a swimming pool, basketball and volleyball courts, a soccer field and an amphitheatre. Throughout the day, there are various activities and classes such as boxing, yoga and aerobics. Continued education classes are also offered to encourage us to learn other areas of the industry, such as principles of cinematography or how to use animation software.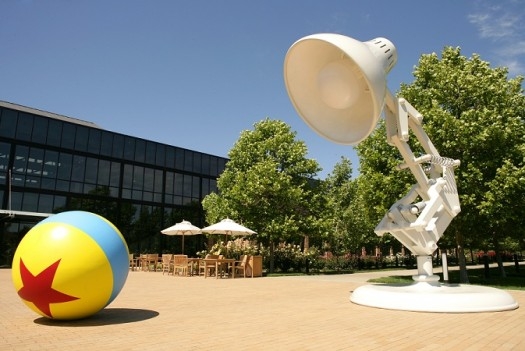 How did you first become interested in this line of work?
In 7th grade, I saw Oliver Stone's Natural Born Killers and was blown away by the editing style. The way the film used different colours, film stocks, etc., to emphasize the different tones and emotions of the film had me captivated and made me realize there was much more to filmmaking than movie stars and plot twists. When I started high school, I got involved in our school's local TV and radio station and got some early experience working on minor editing projects.
Who gave you your first break?
Working at a trailer house in Hollywood called Aspect Ratio as an assistant editor, I learned that a co-worker's friend, Alfonso Delgado, was a producer on Law & Order. For six months, I reached out to Alfonso until a PA position opened up. Although a step down from my position at the time, I jumped at the opportunity to get my foot in the door of the scripted world. Within a short time, I was promoted to an assistant editor position on Canterbury's Law.
What was your first union job?
Assistant editor at Aspect Ratio.
Which of your credits or projects have made you the most proud and why?
In addition to Pixar, I am most proud of my work on Battlestar Galactica. I truly loved the show. I was disappointed when they decided to end it. I can't give enough praise to the post-production crew who really added to the overall experience. The show and crew were one of a kind.
What was your biggest challenge in your job (or on a particular project) and how did you overcome/solve it?
The biggest challenge happened when Canterbury's Law was cancelled after only six episodes and I was out of work at the start of the writer's strike. I thought I would have to accept a lower position and work my way back up again. Luckily, I was able to land an assistant job a few months later on Battlestar, but that time facing the unknown was the most difficult in my career.
What was the most fun you've had at work?
Law & Orderwas my first time working on a studio lot. We were able to get our work done while managing to fit in some mischief, like riding golf carts around the lot and sneaking into the Universal Theme Park. I remember a lot of pranks we played on one another. My favorite was when I super-glued a quarter to the office floor and watched everyone, including the show's creator and executive producer Dick Wolf, bend over and attempt to pick it up.
Jobwise, what do you hope to be doing five years from now?
I would like to be editing a Pixar film. I would also like to continue learning and improving in all things editorial and finding new challenges within the craft. The great thing about this business is that there's always something new to learn.
What are your outside activities, hobbies and passions?
I love exercising and try to fit in some sort of physical activity at least a few days a week. Most weekends, I try to do something outdoors — whether it's hiking in Marin County or getting up to wine country for an afternoon. I'm getting married this July, so wedding planning is taking up the majority of my free time now. I also love to bake and garden, though finding space for my many plants in our little San Francisco apartment is tough! And of course, I love watching movies.
Favourite movie(s)? Why?
I was inspired by Natural Born Killers and I absolutely love Boogie Nights. I'm a huge fan of Paul Thomas Anderson. I really enjoy his writing style and how he portrays the different characters in his films. Alfred Molina's firecracker scene still gives me chills.
Favorite TV program(s)? Why?
I'm currently obsessed with The Walking Dead. I love the element of danger that no character is safe and how the "morality" theme permeates the series. One of my editors from Battlestar works on the show, but he refuses to give me any insight into next season.
Do you have an industry mentor?
Kevin Krasny. He brought me onto Canterbury's Law, took me under his wing and showed me what it takes to be an assistant editor. Kevin always has a cool demeanor and brings a sense of calm to the workplace. He helped me form the fundamental skills I have today.
What advice would you give someone interested in pursuing your line of work?
Always be willing to help other people find work. In our industry, high turnover is the norm and it's common to be on the lookout for a new position. If you help others while they're out of work, they will help you when you're out of work. Networking is key to staying on your feet and moving forward in this industry. Keep every piece of contact information for the people you work with or run into and don't be afraid to keep in touch. You'll be surprised how much it can help when you least expect it.
Was there ever a circumstance when you had to rely on the Guild for help or assistance?
During the writer's strike, I got a job on a reality show for a brief period. The show was being edited on Final Cut Pro, which I hadn't used in a while. Through the Guild, I was able to sign up for a free class that helped me brush up my Final Cut skills, which was a big help in getting me up to speed for the job.
Is there anything you'd like to say to Guild members, some words of encouragement?
Be aggressive and ambitious, but remember to be humble and have a positive attitude. It can be a tough industry to get started in, but if you have the mindset that no task is too big or too small and are always willing to help in whatever way you can to get the project done, it will pay off in the long run.
Compiled by Edward Landler for the Motion Pictures Editors Guild.

thecallsheet.co.uk is a members only service for professionals working in Film, TV, Commercials and Promos in the UK. Our members include Oscar, BAFTA and Emmy awarding winning crew working across every aspect of production and all over the UK.
With over 1000 members, 6000 productions and 4000 companies in our growing database, we connect the industry in the UK.