How Philip K Dick Advanced Sustainable Production
How Philip K Dick Advanced Sustainable Production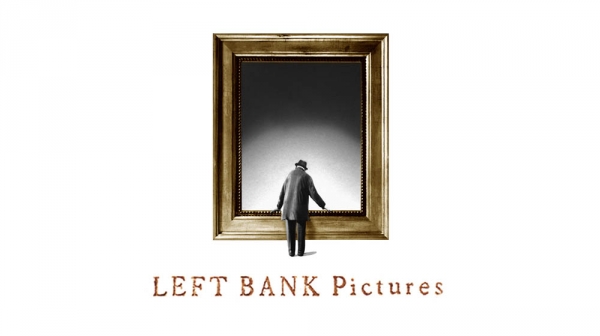 The process of making a movie or television show also means creating an environmental footprint. Today, however, more sustainable production is a high- priority for the industry and, specifically, for Left Bank.
Philip K. Dick's Electric Dreams is Left Bank's new ten-part anthology based on the short stories from the titular author. The stand-alone episodes feature (among many others) Bryan Cranston, Steve Buscemi, Anna Paquin and Timothy Spall. Five episodes were shot in the UK, and the other five in Chicago. At the time of writing, the release date is pending but Channel 4 will broadcast the series in the UK and Amazon will stream the series in the US.
The UK leg of the series was shot over 75 days with 45 stage days at a studio in West London as well on locations in Dorset, around London and South East England. Over 500 cast and crew members were involved in the UK shoot.
The production team worked with UK-based sustainability consultancy Greenshoot, whose efforts dovetailed with parent company Sony Pictures' program to make the production more eco-friendly. On a set visit in West London, we met Alessandro Riconda, who was responsible for sustainability on the show, to find out what steps were being taken to reduce the show's carbon footprint.
Trained by Greenshoot, Riconda joined the production during four weeks of prep to prepare and review suppliers before filming began as well as develop plans for environmental impact reduction, all which kept costs - and cost savings - in mind.
Paul Evans of Greenshoot has advised over 160 shows and witnessed the change towards sustainability first hand. "Most productions think that being green is going to cost them more but being sustainable can actually save productions money."
Riconda and the production crew implemented these plans across 15 weeks of shooting and a week of wrap. Below are examples of actions in key areas that Philip K Dick's Electric Dreams addressed to be more sustainable:
Reduce, Reuse and Recycle
The production emailed digital copies of documents including call sheets, risk assessments and movement orders. If the crew wanted printed copies, it needed to be requested (less than half did). When documents were printed, paper was 100% post-consumer recycled content and call sheets were on A5. Reduced printing saved resources and money. One Script Supervisor, Marinella Setti, went paperless on her 2 episodes on the show.
After use, printed material was placed in the recycling or 'confidential' recycling bins around the offices. 6 tons of confidential documents have been recycled over the whole production and around 7 tons of office waste are estimated to have been diverted from landfill.
The caterers, Chorley Bunce, recycled their cooking oil and the Sound team used rechargeable batteries when possible. The Make-up Department used ethical products from companies like Spirit of Nature. All empty printer cartridges and toners were collected for free, refilled and redelivered by Cartridge Save.
Resources
Instead of using disposable plastic bottles, each member of crew was given their own Electric Dreams refillable water bottle (less than £3 each). There was a water tower near set which was outfitted with a specially tough and robust hand pump called Rhino (supplied in the UK by Aquachill) accessible to the crew. Further, the pump has a handle that made it easy for ADs to move the unit around.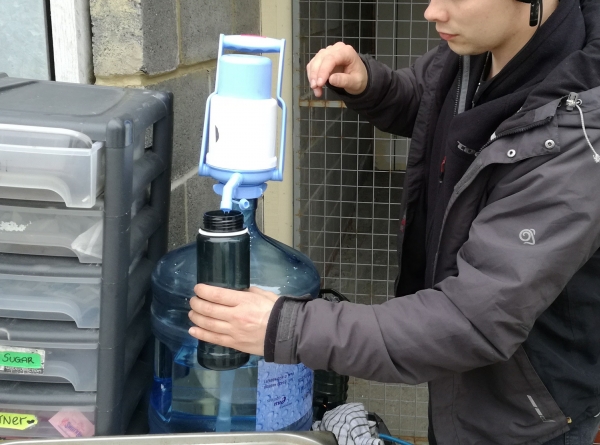 This saved an estimated 31,400 bottles of water over the course of the show, based on the amount of water consumed from the towers. Out of the 500 cast and crew who got the refillable bottle, only 15 replacements were required for lost or broken bottles over the duration of the whole shoot. For days with a lot of background artists, special compostable cups were sourced, that turned out to be cheaper than the plastic alternative. If water bottles were required, and only a handful were, the production only ordered the BELU brand, which donates a portion of each bottle to water-aid and has raised £2.2m to date.
The production enforced a no-idling policy for cars and trucks and some unit drivers even moved to using hybrid vehicles independently. Minibuses were used when going to distant locations, cutting down the volume of vehicles travelling en masse.
Riconda encouraged colleagues to save energy where ever possible. Printers were turned to low energy mode when not in use, air conditioning and heating units were kept at an even temperature and lights turned off when not in use.
Composting
Food waste was collected twice a week by Bio-Collectors when at the studio and by Dorset Waste Partnership when on location in Dorset, diverting around 23,000 litres of organics from the landfill.
The caterers also used special compostable kitchenware from Vegware, adding to the compost effort and eliminating alternative plastic-ware. Through Greenshoot, this option did not cost more.
Donations: Art Department, Construction, Costume and Props
The construction department typically re-uses panels and fixtures on different sets to save on labour and materials. On this shoot, they also used a company called Lanz, which collected the skips and salvaged recyclable items.
One particular scene required the art department to use a lot of straw. Rather than take the used straw to a landfill site when the scene was complete, Alessandro arranged to donate it to a nearby RDA-affiliate stable that teaches disabled children how to ride horses.
While the unique hero costumes were kept for long term storage, non-confidential costumes were donated to shelters in London and to the collection for the victims of the tragic Grenfell Tower fire. Costume Supervisor Beth Lewis oversaw the gradual distribution of barely worn clothes to people in need as the production progressed. The props department also donated items such as mattresses, duvets and toys to local charity collections.
Changing habits
Eco-tips or a fun-fact such as, "One recycled glass bottle would save enough energy to power a computer for 25 minutes. So, two bottles of beer equal one episode of Breaking Bad... Not bad for a Wednesday night," appeared on the call sheet each day, keeping it in the forefront for the crew.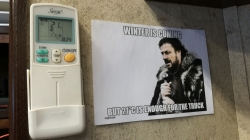 Alessandro also created meme reminders to place near the recycling or energy saving points to remind crew to be sustainable.
Further, each department head reviewed best practices in prep and completed a questionnaire at wrap detailing their efforts.
Production executive for Left Bank, Julie Clark, noted the positive effect it gave the entire team, "Sustainability has become part of our everyday production life. Each department feels good that they've done their bit for the environment."
While not every production can afford a dedicated green coordinator or consultant, all productions can benefit by adopting a more sustainable approach to film-making. Tools to emulate Philip K Dick's Electric Dreams sustainable production program can be found at Green Production Guide.
Greenshoot
For more information on Greenshoot, contact Paul or Melanie at (who also run the green education and resources platform green-screen.org, which is used by production companies worldwide).
**************************************************************************************************************
thecallsheet.co.uk posted jobs on Philip K Dick's Electric Dreams and these productions also.