HETV Link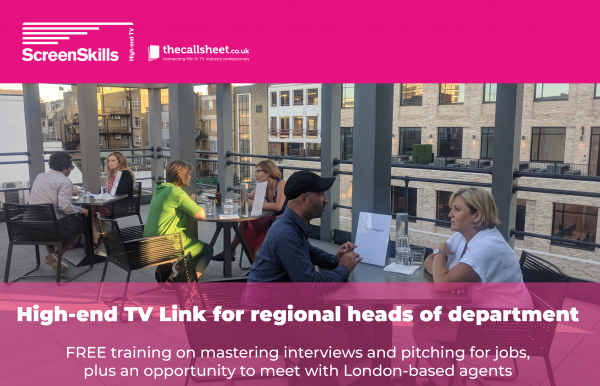 High-end TV Link
APPLICATIONS HAVE NOW CLOSED.
SUCCESSFUL CANDIDATES WILL BE INFORMED BEFORE THE XMAS BREAK.
Are you a head of department (HoD) working in TV production in the English regions without an agent? Or a supervisor/2nd in command ready to step up?
Then a brand-new programme from ScreenSkills, delivered by thecallsheet.co.uk, is aimed at you. This free training is supported by the ScreenSkills High-end TV Skills Fund with contributions from UK high-end TV productions.
Our successful applicants will be given:
A three-hour training and feedback session with directors, producers and heads of production, focusing on mastering interviews and pitching for jobs
The opportunity to meet and socialise over dinner with London-based agents
A networking event with London-based heads of production
Our aim is to boost the pool of HoDs who can work on high-end productions shooting in the regions.
We are looking for:
Crew currently working in high-end TV in senior roles or at supervisor level and ready to step up
We particularly want to hear from crew in design departments – art, costume and make-up – but this scheme is open to all departments.
Applicants must be based in the English regions.
The training will be in Manchester, Leeds and Bristol (unless other cities make more sense for the spread of candidates). At the dinners, which will be in two of these three locations, London-based agents will travel to you. The networking event with production companies will be in London with reasonable travel expenses covered. Events will take place outside filming hours.
IMPORTANT UPDATE: Deadline for applications is now 30th November
We have been allowed to push the training element of this programme to the new year, to avoid the congested festive period.
Having trouble using the form above? Try our alternative application form here