about thecallsheet.co.uk
Welcome to thecallsheet.co.uk, a members-only site for professionals in Film, TV, Commercials and Promos.
With over 2300 members including Oscar, BAFTA, Emmy, MTV, BIFA, RTS & Rose D'or winners. With over 50 BAFTA Nominations in the mix.
TV Drama networking event was on the 15th May with the companies below. Find our more here and look out for future events.

Production and talent teams from BBC Drama, Far Moor (The Fall) Hartswood Films (Sherlock), Impossible Pictures (Primeval) Mammoth Screen (Parade's End) Tiger Aspect (Ripper Street) & World Productions (The Fear, Line of Duty).
This event was sponsored by 3 Mills Studios, Molinare, Sargent Disc & VMI

Did you know?
thecallsheet.co.uk has over 2300 members including Oscar and BAFTA winning crew
On average, we post over 100 jobs and 20 chase list productions per month, many exclusives.
There are over 60 interviews and expert blogs available for free to all members
There is an IMDb style database of over 40,000 Productions, People and Companies
Don't forget to take a look at our members incredible range of Credits
Please check our entry criteria before applying. Click here to see a selection of members credits or read our Testimonials.
Click HERE to watch a more detailed film about the site and services. Then all you have to do is click Join to apply on-line.
Please check our entry criteria before applying. Click here to see a selection of members credits or read our Testimonials.
Selected partners of thecallsheet.co.uk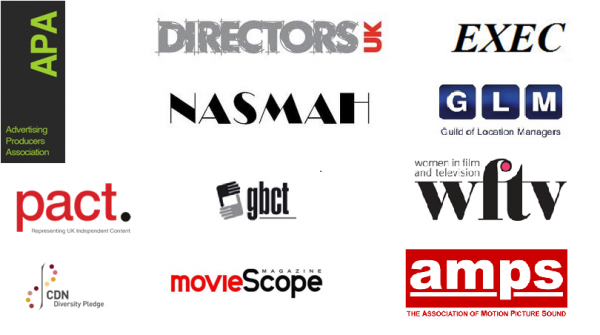 Find out what we could do for you by selecting the relevant link: freelancers, production companies, facilities companies. See our list of services here and membership types here.
Want to post a job? It's free to post and we only publish paid roles, email: info@thecallsheet.co.uk
Individuals
Welcome to thecallsheet.co.uk
The website for professionals in Film, TV, Commercials and Promos.
A website designed for Freelancers but makes it easy for production companies. We provide a range of services to help you find work, for work to find you and to operate in a smarter, more cost effective way. Firstly, you need to qualify to become a member....
We only accept those with a minimum of 10 credits or 2 years in the Film, TV, Commercials or Promo's industry. Regretfully, we do NOT accept short films, unreleased films, student films as professional credits - unless bafta or oscar nominated.
We do NOT accept actors or background performers. This is a website for behind the camera only.
There are two options for Pro members, free and a full subscription. This is what you get for a full subscription.
• Chase List of upcoming productions across the UK. No short films.
• Online Diary Service & profile page. Make it easy for production companies to find you. Your online CV will match into other members, making a database for Film, TV, Commercials and Promos.
• Jobs Board
• Directory Services - Only recommended companies by your fellow professionals have made our list.
• Discounts on Outdoor clothing
• News and tweets from the world of Film, TV, Commercials and Promo's
• Expert Blogs from Financial Advisors and Interviews with industry epxerts.
• The Glossary, a wiki for all Film & TV terms, compiled by Experts - if you're too frightened to ask....
• FREE Download templates - continuity sheets, callsheets, pencil sheet, storyboards, casting sheets and more...
• First 7 Days free for individuals. Only £14.99+VAT per month thereafter for all of the above.
• You can have a free membership with a profile page or subscribe for all of the above. Either way, if you are a professional in the industry, apply now.
Production Companies
Welcome to thecallsheet.co.uk. We make it easy for you to find good people.
A website that saves you time, money and puts you in control of getting the right people for the right job, without compromise. Find the very best people for your company from our nationwide database of professionals and recommended facilities companies.
You can search according to availability, grade, location, skills & by whom they have worked with. Search through credits for Film, TV, Commercials and Promo's. It's completely FREE for production companies to search for individuals and check their online Diary.
Post jobs just to the professional market, where you reach the best candidates and get more quality applications, not quantity.
All members CV's are reviewed and only professionals will be permitted onto the PRO site. Don't get swamped with applications from people who are not right for the job. We also operate thecallsheet.co.uk member site, an entry level site for newcomers to the industry. You can search for newcomers and post relevant, entry-level positions on that site too.
This site is a nationwide platform for professionals. Take the tour and find out why it will save you time and money.
Facilities companies
Welcome to thecallsheet.co.uk
thecallsheet.co.uk is a website for all professionals working across Film, TV, Commercials and Promos, bringing you in direct contact with production companies and individuals like nowhere else. We give facilities companies the chance to both advertise to and interact with prospective clients and personnel.
We have quality control, all candidates must be approved before they canjoin the site. We are creating an online community that mixes the ease of using something like facebook but just for your professionals connections in the creative industries.
Our range of services have attracted interest from production companies and individuals. Not only do we make it possible for companies to search by skill, availability, grade, location and credits but we also offer individuals such services as a Chase List, Jobs Board, Downloads, News, Opinions, Blogs, expert advice, interviews, discounts and more. Production Companies can be sure they are reaching qualified professionals when looking for people -they will reach the best candidates and receive quality applications – not overwhelming quantity. This system, and those services, will mean we only get the best to become members of thecallsheet.co.uk.
Because of the way the website is made, facilities companies can interact with production companies with ease and in several ways. Advertising space is one avenue, advertorial features are another, Blogs and Press releases are also welcome. We encourage facilities companies to become active in the forums, being in direct contact with individuals and production companies. Our Glossary is designed to help inform and educate our members, we ask facilities companies to provide their expertise in explaining a given term. For example, if someone in a production company needs to look up what 'telecine' means, a certain post production company have kindly provided a thorough definition and we link back to their profile. It's about being present at the right place at the right time, to the right person. Companies can interact how they want, you can broadcast to the whole site and you can focus on just one person who needs your advice.
The key principle though, is to be interactive via the profile pages. Under your company listing, we can place a series of thumbnail profiles, like on facebook but with job roles associated with them. Anyone looking at your company page will be able to see who they need to contact, whether it be a producer, PR, bookings coordinator, accounts – whoever you want to have an account. Each of your selected staff will have full access to the site and their own profile page.
You are in control, you can update your company credits and contacts with ease. You can reach the people you need to reach like never before and nowhere else.
Are you on thecallsheet.co.uk?