Production Value 2020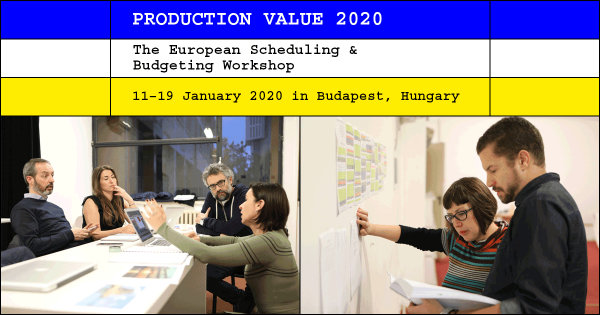 PRODUCTION VALUE 2020 – Budapest, Hungary
Are you a producer with a complex project in development - feature film or limited series - with a budget between 3 and 15 million Euros? Are you interested in getting a schedule and a budget supervised by top-level first assistant directors and line producers? Would you like to have junior assistant directors and line producers improving their experience by working on YOUR project only? Then this programme is for you!
Are you an assistant director interested in improving your scheduling skills at an international level, in knowing more about shooting in other countries and in developing a European network?
Are you a line producer/production manager interested in taking up the challenges of a complex co-production, of investigating the interaction between various financing schemes and of broadening your professional experience?
Now going towards its 14th edition, PRODUCTION VALUE is an established initiative within the European film industry that has successfully trained over 150 juniors and scheduled and budgeted 75 projects so far. This eight-day workshop aims at strengthening the creative partnership between assistant directors and line producers/production managers with producers and directors. It focuses on six European feature films and limited TV series in preproduction, endeavouring to meet the creative and financial challenges of each project.
Among the tutors in the past years: 1st AD Daniela Forn (Spain – THE IMPOSSIBLE, VICKY CRISTINA BARCELONA), Line producer Marco Valerio Pugini (Italy – LETTERS TO JULIET, ROME), Line producer Kaare Storemyr (Norway - KON-TIKI), 1st AD Stuart Renfrew (UK – six films by Stephen Frears, TOLKIEN, PRIDE, BRIDGET JONES' DIARY), 1st AD Scott Kirby (Germany – DER GOLDENE HANDSCHUH, A MOST WANTED MAN), Line producer Michael Schwarz (Germany – AMERICAN RENEGADES, OLIVER TWIST, BORGIA).
You will find all the details about the next edition of Production Value on www.productionvalue.net under :
Are you a producer with a feature film to schedule and budget?
Are you a producer with a limited series to plan?
Date and venue: 11 - 19 January 2020 in Budapest, Hungary
Registration deadline: 10 November 2019

Organized by
FOCAL
(Switzerland) in partnership
with the Norwegian Film Institute, the Swedish Film Institute, the Finnish Film Foundation and for the 2020 edition the Hungarian National Film Fund.
With the support of the Compensating Measures of the Swiss Federal Office of Culture FOC.
FOCAL
info@focal.ch