Production Value 2018
PRODUCTION VALUE 2018 – Lecce, Italy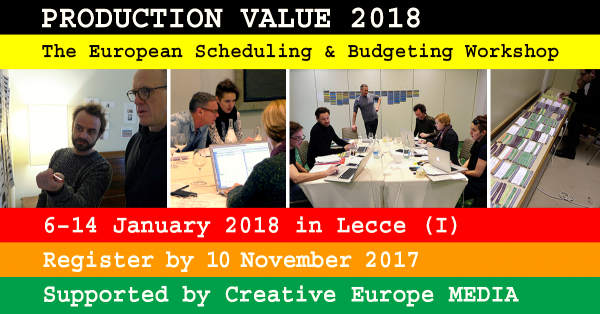 Are you an assistant director or a line producer/production manager interested in improving your scheduling and budgeting skills at an international level, in learning from senior professionals, and in developing a European network?
Are you a producerwith a complex project, interested in getting a schedule and a budget supervised by top-level first assistant-directors and line producers?
A growing success in the European Film industry, PRODUCTION VALUE is an 8-day workshop that aims at strengthening the creative partnership of assistant directors and line producers/production managers with producers and directors. It focuses on 6 European feature films and TV series in preproduction, endeavouring to meet the creative and financial challenges of each project.
Past tutors have included Marco Valerio Pugini (Italy – ZOOLANDER 2, letters to juliet, rome), Stuart Renfrew (UK - 6 Stephen Frears' films, BREATHE, pride, bridget jones' diary), Scott Kirby (Germany – point break, v for vendetta, a most wanted man), José-Luis Escolar (Spain - agora, knight and day) and Michael Schwarz (Germany – renegades, oliver twist, borgia).
All details on www.productionvalue.net
Date and venue: 6 - 14 January 2018 in Lecce (Apulia), Italy
Registration deadline: 10 November 2017
Proposed by FOCAL resource (The Netherlands), FOCAL (Switzerland), the Norwegian Film Institute, the Swedish Film Institute, the Finnish Film Foundation and supported by Creative Europe / MEDIA and Apulia Film Commission (Italy).
FOCAL resource