Guide to thecallsheet: Profile Pages
This guide is for illustrative purposes only, some of the names, numbers and email address have been removed.
There are lots of great services and features on thecallsheet.co.uk - take the tour and click NEXT below to see more...
PROFILE PAGES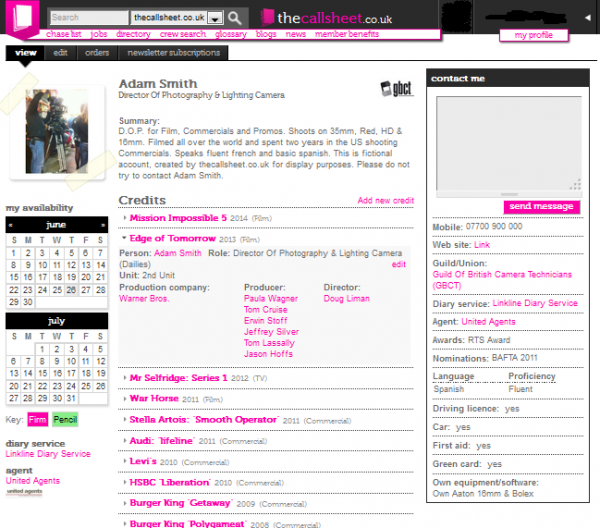 All basic accounts on thecallsheet.co.uk are FREE and you get a profile page. This is a fictional account for illustrative purposes only.
List all of your Credits (more on this on the next page)
Photo, Biography, Contact number
Online diary to mark your availability (you can hide this)
List your Diary Service, Agent, Association, Union
List your awards, nominations, languages, skills, equipment
You can even attach your CV
Click on the small black arrow next to the production title to expand the detail (see Edge of Tomorrow above)
Use the in-site messaging system (the grey box in the top right) to contact each other without revealing your personal email address.
All of the credits link together, click NEXT to see what happens when you click on the production title for Edge Of Tomorrow'